Technical Journal
Technical journals that introduce new technologies, services and R&D activities at NTT DOCOMO and Group companies.
Contents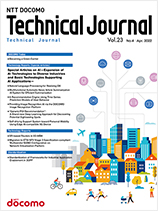 VOL.23 NO.4
Apr.2022
DOCOMO Today
Becoming a Green Carrier
Technology Reports(Special Articles)
Special Articles on AI—Expansion of AI Technologies to Diverse Industries and Basic Technologies Supporting AI Applications—
Natural Language Processing for Realizing DX
Multifunctional Automatic News Article Summarization AI System for Efficient Summarization
A Recommendation Engine Using Time Series Prediction Models of User Behavior
Providing Image Recognition AI via the DOCOMO Image Recognition Platform
"Generic POI Recommendation": A Brand-new Deep Learning Approach for Discovering Potential Sightseeing Spots
Self-driving Support System toward Personal Mobility Using Edge AI-compatible 5G Device
Technology Reports
SR-based Routers in 5G MBH
Migration to ETSI NFV Stage 3 Specification-compliant Multivendor MANO Configuration on Network Virtualization Platform
Standardization
Standardization of Frameworks for Industrial Application Enablement in 3GPP
Back number
You can view the details of the back issues of the "Technical Journal".
In order to view PDF files, you must have the Adobe® Reader® plug-in offered free of charge from Adobe Systems, Inc. When viewing the PDF files with Adobe® Acrobat®, use version 10 or later.