Technologies
Introducing DOCOMO's research and development, latest technical information, etc.
NTT DOCOMO R&D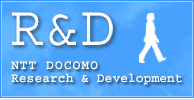 Introducing DOCOMO's R&D in detail.
DOCOMO 6G White Paper
DOCOMO has released a white paper on the topic of 6G, the sixth-generation mobile communications system that the company aims to launch on a commercial basis by 2030. It incorporates DOCOMO's views in the field of 5G evolution and 6G communications technology, areas that the company has been researching since 2018. The white paper summarizes the related technical concepts and the expected diverse use cases of evolving 5G and new 6G communication technologies, as well as the technology components and performance targets.
5G Open RAN Ecosystem White paper
DOCOMO promotes the open radio access network (Open RAN) ecosystem.
The white paper explains the aims and benefits of the Open RAN ecosystem and addresses the challenges of deploying Open RAN, especially vRAN, and possible approaches for solving these issues.
DOCOMO 5G White Paper
This white paper presents DOCOMO's views on the drivers and requirements, the evolution concept, and potential candidate technologies for 5G radio access. 5G is a new mobile communications system targeted at commercial deployment in 2020 and beyond.
Technical Information on DOCOMO UIM Card
DOCOMO discloses the EFECC on DOCOMO UIM Cards in order for the Registered Approval Agency etc. to examine the technical conditions compliance about emergency calls.
Intellectual Property
Expanding scope, noteworthy achievements and contributions to technical standards.