Cancelling Your Mobile Phone Subscription
5GXi "crossy"FOMA
Contract handling fee : Free
Items Required
The following is what you will need to cancel your subscription.
Your current docomo UIM Card/docomo eSIM Card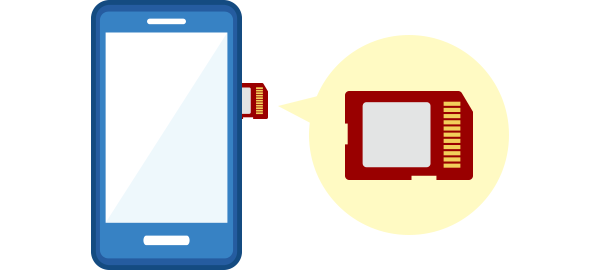 If you do not have a docomo UIM Card (Lost or stolen etc.)
Your network PIN or a document verifying the identity of the subscriber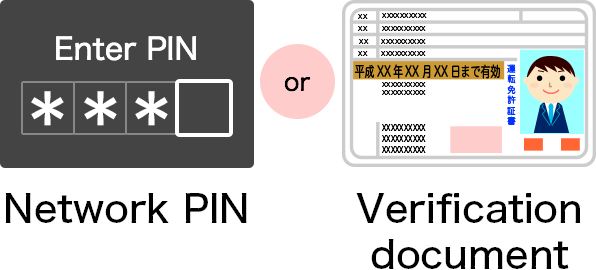 The verification documents must be the ones that include your name, birth date, and current residence.
Photocopies are not accepted.
Your network PIN is the 4-digit number used for various service settings that you specified at the time of subscription, etc.

If a representative applies on behalf of an organization or other individual (application by proxy), the representative may need to present proof of identity. The cancellation can be processed if one document verifying identity is presented, even if it is not a driver's license.
Charges
Charges incurred up to the day of cancellation.

You will be billed for these charges the following month.
Cancelling with Mobile Number Portability (MNP)
The following is the guide for customers with a DOCOMO line subscription to canceling subscription with MNP.
Procedures
You can apply by PC, smartphone, docomo Feature Phone, or at a docomo Shop/d garden.
PC,
smartphone,
docomo Feature Phone
(sp-mode)
You can apply from

(docomo Online Application). The required d ACCOUNT can be easily issued, so even beginners can start using right away.
When accessing from a PC, a d ACCOUNT is required.
When accessing from a smartphone or docomo Feature Phone (sp-mode), a Network PIN is required.
Operation procedures on the actual screens are in Japanese.
Please visit a docomo Shop if you need to perform the procedure in advance for 2in1 A Number or apply for a subscription under the name of a corporation.
Business hours :

24 hours *1
docomo Shop
/d garden
docomo Shop/d garden
All shops provide this support service through interpreters, to enable foreign language speaking customers to stop by freely and comfortably.
Business hours differ by shop. See the pages of individual shops for details.
You are required to make a Shop Appointment to perform procedures at a shop. If you visit a shop without an appointment, you may be asked to return with an appointment for another day.
Business hours :

Within the business hours of the corresponding shop
Unavailable from 10:30 p.m. every Tuesday to 7:00 a.m. the following morning due to system maintenance.
Notes
About purchasing in installments
If there are any outstanding installments when you apply for cancellation, you will still be required to pay the installment payments. Canceling your subscription will result in the termination of your Monthly Support, and charges will be made without the discount deduction.
If you pay the lump sum of the remaining installment payments to cancel your subscription to the service, the DOCOMO installment payment contract (individual credit purchase brokerage contract/installment sale contract) can be terminated.
About points
[In the case of d POINTs (Under a personal name)]
Make sure you are issued a d ACCOUNT before cancelling your mobile phone subscription.
If you have a d ACCOUNT, you can continue using d POINTs with some services as a member of d POINT CLUB after cancelling your mobile phone subscription. If a d ACCOUNT is not issued, you will not be able to continue using d POINT CLUB, and your d POINTs (also including points earned with your d CARD or d POINT CARD) will be forfeited.

Check accumulated d POINTs (in Japanese only)
If you have a d ACCOUNT, you can continue using some services such as dmarket.

If you do not have a d ACCOUNT : new registration and re-issuance (in Japanese only)
[In the case of docomo Points (Under a personal name and a corporate name)]
When you cancel your mobile phone subscription, docomo Points will be forfeited regardless of whether you have a d ACCOUNT.
Others
Charges will not be calculated on a per diem basis for Data Pack, Share Pack, Raku-Raku pack, Business Share pack, Pake-hodai double, Pake-hodai, Pake-hodai full, or Biz-hodai. You will be billed the flat-rate monthly charge.
Charges such as handling fees paid at the time of subscription will not be refunded.
You will be billed for the final settlement of your account at a later date if none of the following apply to the total charges.

Directory assistance inquiries, collect calls, telegrams, WORLD WING call charges, and call and other charges incurred just before (approximately two hours before) cancellation of subscription
Interest charges incurred on overdue telephone bills that were paid at financial institutions or convenience stores
Payment for purchases made using d-Barai/DOCOMO Mobile Payment
Payment from your d-Barai balance (money transfer amounts and service charges)
Preparation fees for itemized billing statements sent after cancellation of subscription
etc.

If you pay charges with a bill, a bill for the charges that you already paid when settling your account may already be issued. You will be refunded for any double-billed amount.
If you use automatic payment, funds may also be withdrawn from your bank account because DOCOMO is unable to verify remittance status with banks. If withdrawn, funds will be refunded to your bank account.
You may be billed for dialing charges and other charges up to two months after subscription cancellation. Please retain your bank account in order to cover these charges.
When a deposit is to be refunded, the deposit amount will be remitted to your bank account after confirming that all charges have been paid.
If you purchase a new mobile phone designated by DOCOMO or cancel your FOMA service subscription (including when using that as a 2in1 subscription B number) before completing the promised period (two years) of use after purchasing a mobile phone with Basic Course, you will be required to pay a Basic Course cancellation charge. That charge will apply for the number of months remaining in the promised period of use, and the charge will be ¥660 (incl. tax) multiplied by the number of months remaining.