#04 Global Expansion of 5G Open Radio Access Networks
DOCOMO is cooperating with 12 global vendors to accelerate open radio access networks (hereafter, Open RAN) that enable flexible network creation, and develop them overseas into the "5G Open RAN Ecosystem", in response to the diverse needs of communications carriers and businesses in the 5G era.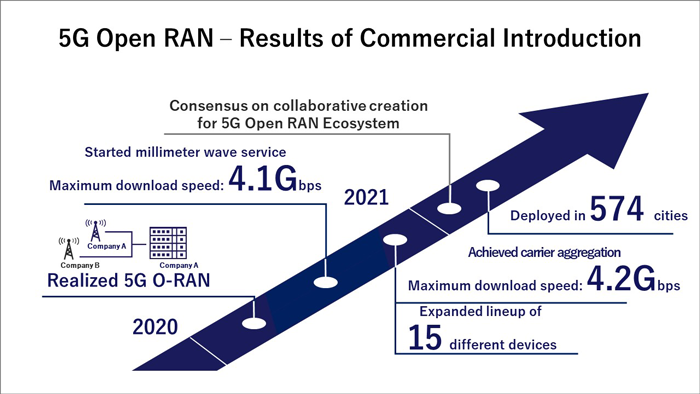 DOCOMO has succeeded in multi-vendor connections since the LTE era, and in a world first in March 2020, DOCOMO implemented 5G business services on Open RAN.
In September 2020, DOCOMO commenced provision of millimeter wave service; in November 2020, it expanded multi-vendor connection capability to 15 different devices, achieving "carrier aggregation" over 5G.
In February 2021, DOCOMO joined a group of 12 global vendors which agreed on the collaborative creation of an open wireless access network (hereafter, Open RAN) on a global scale to meet diverse needs by enabling flexible network construction. It is called the "5G Open RAN Ecosystem". In March 2021, 5G services were deployed to 574 cities.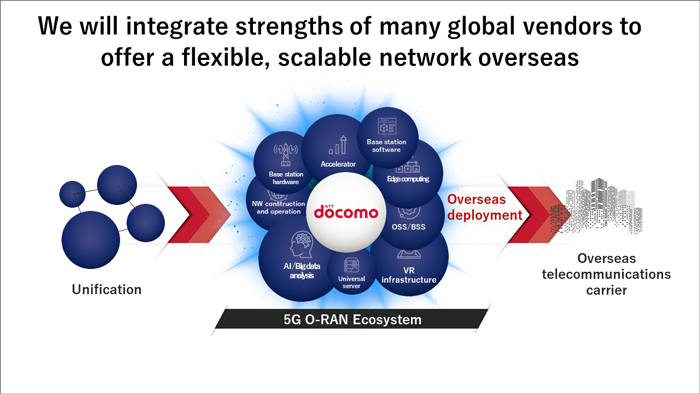 Utilizing Open RAN expertise built over many years, DOCOMO does not simply bring together each global vendor's strengths, rather it fuses them to produce wide-ranging value.
DOCOMO will cooperate with multiple global vendors to build the "5G Open RAN Ecosystem" as a flexible and highly scalable network covering implementation, operation and maintenance, in line with the needs of overseas telecommunications carriers.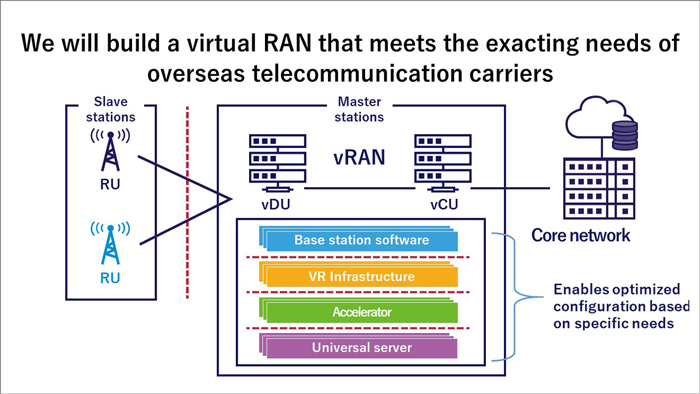 DOCOMO will develop a virtual RAN (hereafter, vRAN) - a highly scalable network with multi-vendor connective capability.
Opening it up allows us to respond to the needs of overseas telecommunications carriers because the integration of products from different vendors gives users the freedom to use the various vRAN functions as they please.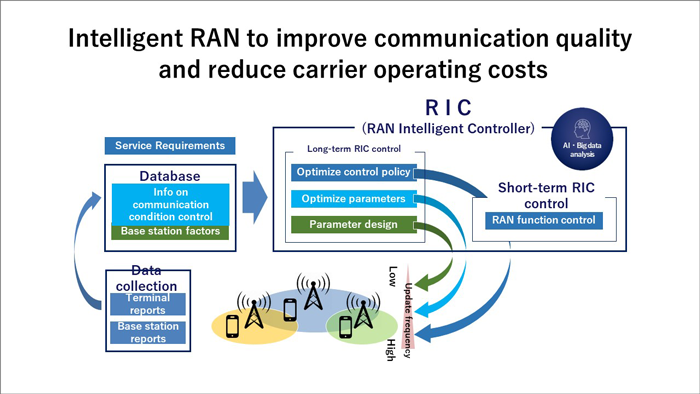 An additional key element in advancing Open RAN is the technology called RIC, allowing for intelligent control of RAN.
AI is used to analyze control data gathered from base stations and terminals, the results of which can be used to control base stations, leading to further improvements in transmission quality and reducing operating costs for telecommunications carriers.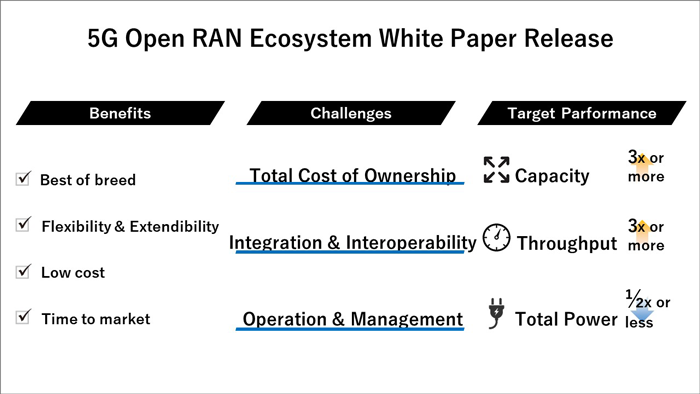 Today (June 28, 2021), we release our white paper on the 5G Open RAN Ecosystem.
We challenge ourselves on three important elements to maximize the benefits of Open RAN, Our target performance are more than three times the capacity, throughput, and less than 1/2 power compared to today's vRAN performance.