Antennas, Base and Mobile Stations -15.DSP
The digital signal processor (DSP) was developed for the purpose of efficiently handling functions such as voice CODEC, in which multiplication and cumulative multiplication are the main processes. The DSP has a built-in high-speed hardware-based computing element consisting of a multiplier and adder-subtractor. It adopts Harvard architecture that features an independent program bus and a data bus so that various commands can be executed via a single command step in principle. It has also been designed to efficiently execute multiple processing -- such as carrying out calculations and data transfers simultaneously.
Functions suitable for DSP processing in mobile communications include voice CODEC, channel CODEC, echo canceler, fading equalizer and modem functions. As these functions are necessary on both the network side and mobile unit side, mobile and portable units use various DSPs on a case by case basis. These components, which have been specifically developed to carry out their respective functions, feature high speeds, low power consumption and low costs, and play a substantial role in enhancing the functions of the voice CODEC.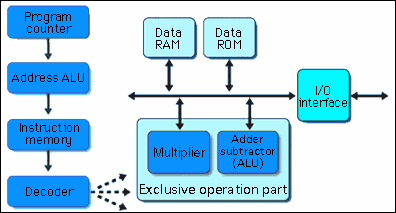 Typical DSP Configuration

Created 1999/03