Antennas, Base and Mobile Stations -3.Adaptive Array Antennas
Future mobile communication systems should require very high-speed signal transmission techniques that can support bit rate of more than 10 times as fast as that offered by the IMT-2000 systems. Furthermore, in order to accommodate more users per MHz than the IMT-2000 systems, multiple users have to be able to use the same frequency- and time-slots simultaneously without spreading their signals in the frequency domain. For this purpose, technological breakthrough is required that can suppress effects of co-channel interference while keeping the desired signal's received strength higher than required to support acceptable communication quality. Adaptive array antennas have been considered most effective in achieving this goal.
Adaptive array antennas control beam patterns by performing signal processing in the spatial domain so that deep nulls are formed towards interferer's incident angles, thereby desired signal components are received properly without being affected by the interferers. Unfortunately, however, adaptive array antenna is not effective in the presence of multiple propagation paths because it inevitably nullify the delayed desired signal components, even though they bear the desired user's transmitted information. A reasonable extension of the adaptive array antennas is space-time equalizers that combine adaptive array and adaptive equalizer concepts. The space-time equalizers perform signal processing in both spatial and temporal domains so that energies of delayed desired signal components can also be combined. This is quite effective in improving communication quality over the case where adaptive array antenna alone is used.
| | | |
| --- | --- | --- |
| (a) Antenna | (b) Beam Control Unit | (c) Adaptive Equalizer |
Photos of Prototyped S/T Equalizer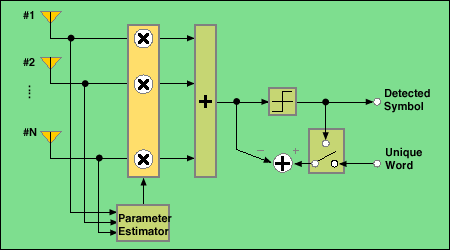 Example of Adaptive Array Antenna Structure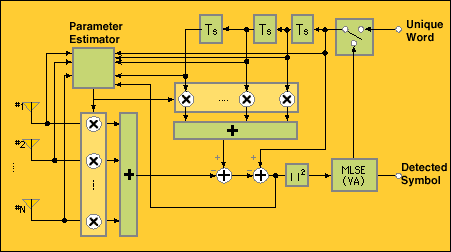 Example of S/T Equalizer Structure

Created 2001/03