Sending Text Messages (International SMS)
International SMS (Short Message Service)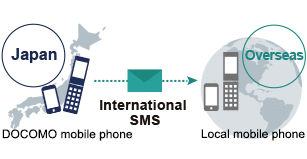 Application:

Not required
You can send text messages from a DOCOMO mobile phone to a local mobile phone.
How to Send
Send a text message to a local mobile phone
[+] [Recipient's Country Code] [Recipient's Phone Number] [Enter Text] ⇒ Send
(Example) UK mobile phone: 07XXX XXX XXX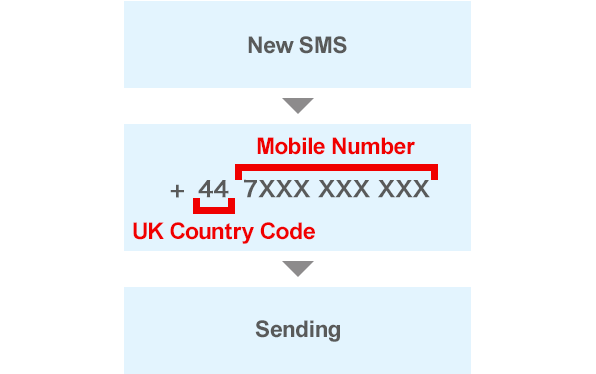 If the recipient's mobile phone number begins with 0, omit this and dial the following phone number (excludes certain countries and regions).
How to key a [+]: Hold [0] for over a second.
The method for keying a [+] varies by model. Please check your instruction manual, etc., for details.

With regard to SMS delivery notifications, in the case of certain mobile carriers, such as where the sender's carrier is in the United States, China, South Korea, or the Philippines, these will be sent at the time when the message arrives at the message center used by the sender's carrier (no fee will be charged).
Countries, regions, and overseas communications carriers that are able to send and receive
An island in the Australian Federal Territory in the Indian Ocean.

The country code for Netherlands Sint Marten is 1, but please dial 590 to send an International SMS to Dauphin.
Due to Number Portability, there may be cases where International SMS messages cannot be sent and received with certain overseas carriers.

There may be cases where International SMS is available outside of the regions and carriers listed above. Fees will apply if you use SMS in such cases.

SMS may be unavailable in cases such as where the recipient is currently roaming outside of the regions and carriers listed above.

For International SMS messages sent from a user of an overseas carrier, in cases where the size of the message exceeds 70 full-width characters or 160 single-byte characters, on certain models this may be received in the form of multiple split SMS messages, and when this occurs, such messages may not be received correctly.
Fees
| | |
| --- | --- |
| Basic Monthly Fee | None |
| Payment | The fees will be invoiced together with the invoice for your regular mobile phone. |
International SMS Fees
Sending: 50 to 500 JPY, depending on the number of characters being sent. (The number of characters that can be sent per message varies by model and application used)
Receiving: Free
# of Characters Sent
Fee per Message
In the case of half-width English letters only
In the case of full-width characters
1-160 characters
1-70 characters
50 JPY
161-306 characters
71-134 characters
100 JPY
307-459 characters
135-201 characters
150 JPY
460-612 characters
202-268 characters
200 JPY
613-765 characters
269-335 characters
250 JPY
766-918 characters
336-402 characters
300 JPY
919-1071 characters
403-469 characters
350 JPY
1072-1224 characters
470-536 characters
400 JPY
1225-1377 characters
537-603 characters
450 JPY
1378-1530 characters
604-670 characters
500 JPY
---
There may be cases where the service is unavailable due to model or communication issues.

2in1 B numbers cannot be used.

If "Refuse SMS" is set for within Japan, you will be unable to receive International SMS messages, even when overseas.

There may be cases where "a maximum of 670 characters (1530 characters in the case of half-width English letters only) can be sent and received" is stated in the L-01F instruction manual (quick start guide); however, messages of 71 characters or more (161 characters or more in the case of half-width English letters only) will fail to send. (A fee will not be charged.)

Short Message Service (SMS) cannot be used on an iPad.

With regard to the cost of sending International SMS messages, this is subject to toll-free communications such as of basic usage fees.

It is not subject to toll-free communications included in the Xi data communication dedicated plans or FOMA data plan.In addition, communication fees are not subject to the various discounted services provided in Data fixed rate services, etc.

International SMS messages are not included in the WORLD CALL usage limit.

The fees for sending SMS messages when using WORLD WING are different.
---
Consumption tax, etc., is not added to call and communication fees for the various international services.

TM and © 2023 Apple Inc. All rights reserved. iPad is a trademark of Apple Inc.