d Wi-Fi
"0001docomo" access issues
We have verified that some customers are unable to access "SSID:0001docomo" and have prepared software to resolve the issue.
Should this occur, please connect to "SSID:0000docomo" through web authentication. We apologize for any inconvenience that this may cause you.
For details, refer to How to Connect to d Wi-Fi through Web Authentication (in Japanese only).
Time of occurrence
Thursday, September 15, 2022, and ongoing

Applicable models
SO-54C, SO-52C, SO-51C, SO-53B, SO-52B, SO-51B, SO-52A, SO-51A, SO-41A, SO-01M, SO-03L

Cause
The issue occurs on applicable AndroidTM 11 and 12 models with the Google PlayTM system update (August/September/October 2022 version).

Solution
The software update for the fix is available for the models below.
Please perform the software update.
SO-54C, SO-52C, SO-51C, SO-53B, SO-51B, SO-52B, SO-52A

d Wi-Fi is a public Wi-Fi service that any d POINT CLUB member*1 can use for free.
This service provides Internet connection not only for smartphones, but for Wi-Fi compatible devices such as PCs and tablets. The service can be used at cafes, convenience stores, restaurants, and other establishments. Secure and stable DOCOMO network is available at Wi-Fi SPOTs in Japan.
Application : Required

Monthly charge : Free
To apply for d Wi-Fi, you need to issue a d ACCOUNT, enroll in the d POINT CLUB membership program, and register for d POINT CARD usage. Go to

User Information Registration

(in Japanese only) for the procedures.
No Service Fee for d POINT CLUB Members
d POINT CLUB members can use d Wi-Fi for free without a subscription to a DOCOMO line.
d ACCOUNT,

d POINT CLUB

membership and d POINT user information registration are required to apply for d Wi-Fi.
No usage fee regardless of how much data you use!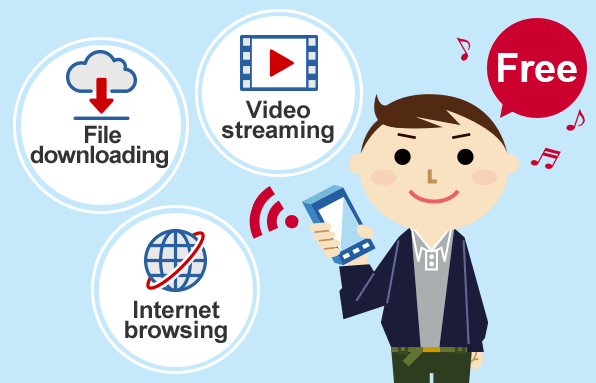 No usage fee is incurred even if you download large files such as videos.
You can use the service with your smartphone without worrying about using up your data.
A stable connection enables smooth transmission of large amounts of data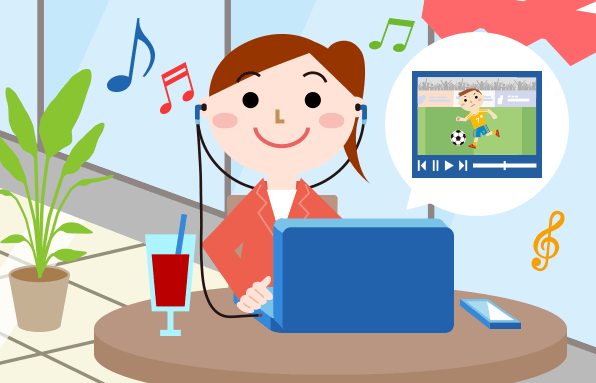 "Public Wi-Fi is often too slow for connecting to the Internet". Have you ever experienced this problem?
d Wi-Fi provides smooth connection for viewing and downloading videos and accessing the cloud from outside using DOCOMO's stable connection. You can use the Internet while you're out in town without any stress.
Simultaneous Connections are Possible from Multiple Devices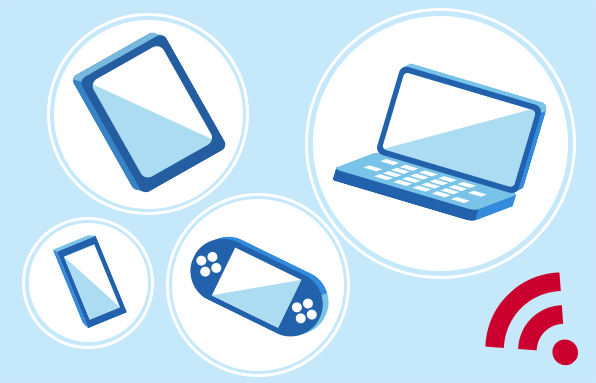 You can use various Wi-Fi compatible devices such as PCs, tablets, and gaming devices in addition to smartphones.
Up to five devices can be connected simultaneously.
The number of devices is identified with MAC address.
Reliable Security
Communications may be intercepted or monitored at a public Wi-Fi SPOT that are not encrypted. d Wi-Fi uses the WPA2 system to encrypt wireless sections connected to access point devices for secure communication.
How d Wi-Fi Security Works
The d Wi-Fi offers wireless security between an access point and a wireless LAN device.
When transmitting important information such as personal information through the Internet, we recommend to use additional security such as TLS or VPN*2.
TLS and Internet VPNs ensure security even in wireless LAN areas, and therefore they are able to protect your connection even if the wireless LAN encryption is decoded.
When you log in to d Wi-Fi, TLS is used for communication between your device and a DOCOMO's server. This encrypts your d ACCOUNT and d Wi-Fi password information to prevent data from being intercepted or tampered with.
d Wi-Fi SPOTs support IEEE802.1X technology which supports automatic authentication with robust security.
You can configure it on your device.
You may not use some VPN technologies as d Wi-Fi allocates a private address to your device.
Content Filters Option
A subscription to the Content Filters Option, which blocks access to harmful websites, is recommended for minors.
d Wi-Fi SPOTs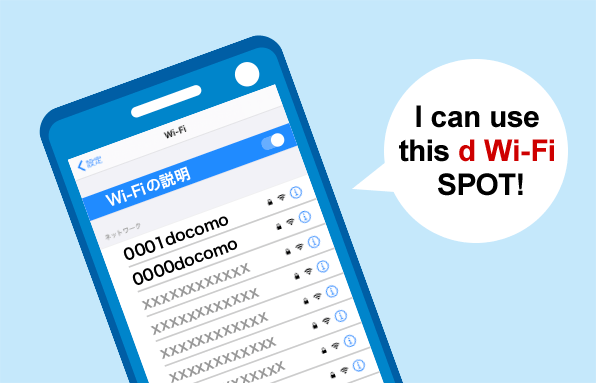 The service is available at various locations in Japan, such as cafes, convenience stores and fast food restaurants.
A d Wi-Fi SPOT is indicated by "0001docomo" or "0000docomo" in the network name (SSID).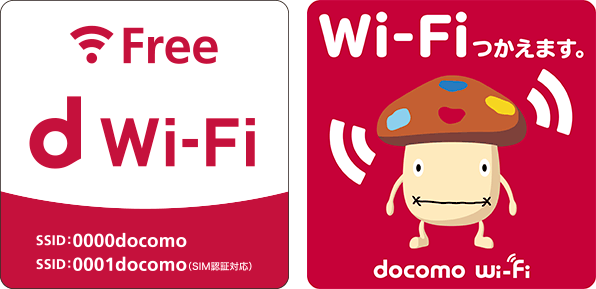 d Wi-Fi SPOTs (available spots) are displayed with the mark shown in the image.
The service is available at establishments and stores that display a sticker.
Wi-Fi SPOT
You can search for Wi-Fi SPOTs using the following methods.
The service may be unavailable at some Wi-Fi SPOTs that have no reception.

At stores, the service is available during operating hours.
How to Apply
You can apply by PC, smartphone, docomo Feature Phone (sp-mode), phone, or at docomo Shop/d gardens.
How to Connect
Steps are differ depending on your device.
For smartphones and tablets
Smartphones and tablets with a DOCOMO line subscription can connect to "SSID:0001docomo" via SIM authentication.
For smartphones and tablets without a DOCOMO line subscription, enable d Wi-Fi in the d ACCOUNT setting app to connect to "SSID:0001docomo" automatically.
Using Web authentication, you can connect to the "SSID:0000docomo" spot, which does not support SIM authentication or the d ACCOUNT setting app.
For PCs and other Wi-Fi compatible devices
PCs and other Wi-Fi compatible devices can connect via Web authentication using a d ACCOUNT and d Wi-Fi password or the automatic login function (for IEEE802.1X authentication compatible devices).
---
d ACCOUNT and d POINT User Information Registration are required.
Wi-Fi is either a trademark or registered trademark of Wi-Fi Alliance.
In order to view PDF files, you must have the Adobe® Reader® plug-in offered free of charge from Adobe Systems, Inc. When viewing the PDF files with Adobe® Acrobat®, use version 10 or later.