MWC Barcelona 2023
DOCOMO Participates in MWC Barcelona 2023
NTT DOCOMO booth at MWC Barcelona 2023, which will showcase exhibitions and presentations focused on the main themes of 6G, open radio access networks (Open RAN) and extended reality (XR), will also promote international standardization and global business for next-generation communication technologies. Due to the global pandemic, this will be DOCOMO's the first onsite appearance at MWC Barcelona since 2019.
In the 6G section, DOCOMO will present the coming 6G world and advanced wireless technologies that the company is currently developing. This will include a demonstration of the Human Augmentation Platform to communicate haptic sensations between people connected to a 6G network to enable, for example, a musical student to mimic the exact finger motions of a teacher.
In the Open RAN section, DOCOMO will present experiential content to help visitors understand the concept and structure of Open RAN, as well as progress being achieved to enable multi-vendor telecommunication equipment to be combined in Open RAN, as well as related collaborations with international carriers.
In the XR section, visitors will experience the metaverse filled with music, anime and movies and also a virtual-live system, both provided by NTT QONOQ, INC., a company launched by DOCOMO's parent NTT group last October to promote XR business.
Dates
27 February - 2 March, 2023
Exhibits

Research and Development for 6G Wireless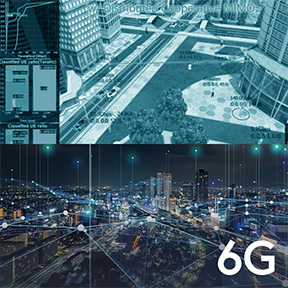 DOCOMO is pleased to introduce its initiatives and concepts for 6G, including a 6G simulator that demonstrates the significant performance improvements 6G will realize through optimized mobile technology.
Human Augmentation Platform for 6G Era
DOCOMO, aiming to leverage 6G's high speed, high capacity and low latency, is developing a mobile platform that will extend human capabilities by sharing sensory information between people.
Motion Sharing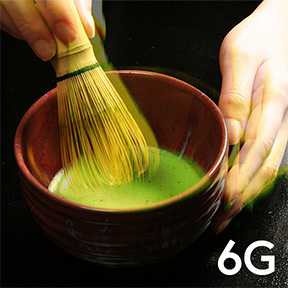 This technology can be used to share bodily movements not only with other people but also robots. For example, sharing the hand movements of a teacher playing a musical instrument allows a beginner to mimic the teacher's playing in real time. Also, sharing the actions of a person making green tea enables a robot to perform the same ritualized procedure. Furthermore, information shared by the human-augmentation platform is tailored to the capabilities of the person on the receiving end.
FEEL TECH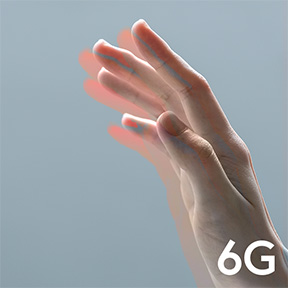 The platform is used to share haptic information between people to enable people on the receiving end to experience sensations such as creating art and touching remote objects. Before sharing, haptic information is converted by the platform and adjusted according to each receiver's level of sensitivity.

OREX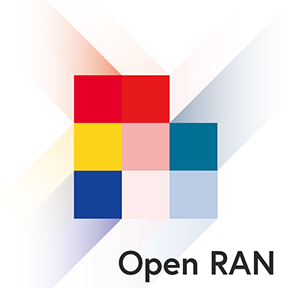 OREX (Open RAN Ecosystem Experience) is a new service brand represented by DOCOMO and 13 global vendors with the vision to deliver Open RAN, a new initiative that will enable global operators to connect people everywhere more easily.

NTT QONOQ
NTT QONOQ ( "ko-no-cue" ) was launched on October 1, 2022 as a wholly owned subsidiary of NTT DOCOMO to promote the NTT group's XR business.
NTT QONOQ manages consumer and corporate businesses in three XR sectors: virtual reality, augmented reality and mixed reality.
The company's metaverse initiatives deploy avatars in the virtual realm for enhanced user experiences and communication. Also, NTT QONOQ's digital-twin offerings realize new value through interactions between the real world and virtual spaces using XR. In addition, the company is developing XR devices that deliver value-added experiences in combination with various services.
Going forward, NTT QONOQ will continue to leverage its parent NTT DOCOMO's vast experience with mobile telecommunications to create a rich XR culture realized through advanced networks, services and devices.

NTT QONOQ (PDF format:2,872KB)
XR World
XR World is a metaverse where viewers enjoy content centered on Japanese music and anime. Anime and other media are represented in virtual spaces, making viewers feel as if they are immersed in these worlds.
To date, XR World has collaborated with the well-known Japanese anime "NARUTO" to allow viewers to experience becoming the main character's avatar and performing his iconic moves. Also, through a collaboration with an idol group, viewers can watch a live performance while communicating with the members, even tipping them coins to show their appreciation.
One of the exhibits was developed in collaboration with Godzilla, where visitors can experience viewing a life-size Godzilla from various heights and enter the diorama as their own avatars to enjoy 'Mechagodzilla dock' and battles between the monsters.

XR World (PDF format:3,407KB)
Mixed Reality Animals - Volumetric Video x Magic Leap 2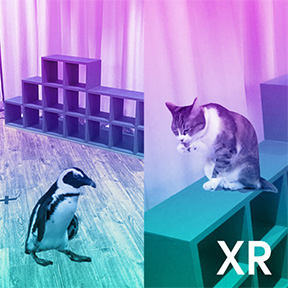 This exhibit demonstrates the 3D-spatial capabilities of volumetric video using an advanced MR device, Magic Leap 2. Volumetric video of real cats and penguins was produced and then the images were converted to 3DCG. Visitors are invited to experience the object-recognition capabilities of Magic Leap 2 as they watch these animals jump on furniture in real space.
Matrix Stream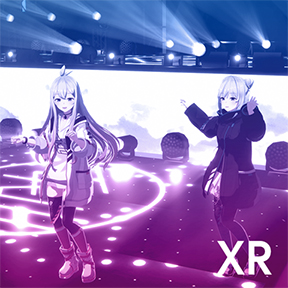 NTT QONOQ developed Matrix Stream as a virtual-live and general-purpose video-delivery system for extended reality (XR). The system enables real-time, simultaneous online delivery of virtual-live performances and also holographic live performances using transparent screens and VR headsets at real venues as well as live performances in the metaverse. It is also compatible with high-performance motion-capture systems such as VICON for the reproduction of highly detailed character movements. NTT QONOQ has also developed proprietary shaders to further enhance both expressiveness and real-time performances.

Matrix Stream (PDF format:2,290KB)
---
In order to view PDF files, you must have the Adobe® Reader® plug-in offered free of charge from Adobe Systems, Inc. When viewing the PDF files with Adobe® Acrobat®, use version 10 or later.