Corporate Philosophy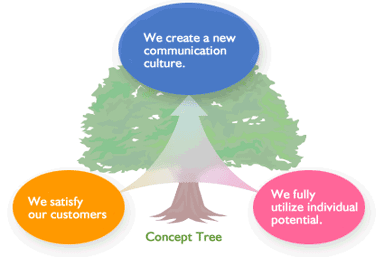 Creating New Communications Culture
DOCOMO, Japan's largest mobile operator and a leading provider of integrated services centered on mobility, enhances the personal communication of its customers by creating new communications culture based on:
Reliable access
Real-time access
One-to-one e-communication
People benefit from the advancement of communications culture in many ways:
Freedom to enjoy communications anytime, anywhere with anyone
New customs and manners associated with e-communication
Unlimited lifestyle options and opportunities
Innovative and enriched communications
To achieve the goals
DOCOMO is working to deliver and strengthen these benefits by improving service quality, aggressively moving forward with the development of new services, and researching and developing more user-friendly communications interfaces. In addition, services and technologies are being provided in a diversifying range of business fields and platforms.
Satisfying Customers
True customer satisfaction is based on a number of factors:
Means of communication that are always ready when needed
Capability to contact whomever, from wherever and whenever
Happiness that comes from heart-to-heart communications
Helping customers realize their dreams
Responding to customers with consideration, courtesy and thoroughness
Products that provide easy, convenient and enhanced functionality
To achieve the goals
DOCOMO strives to fulfill the expectations of its customers through industry leadership in service quality, advanced networks, functionality and service area coverage. In addition, diversifying customer needs are being satisfied with an increasingly broad range of upgraded services at competitive rates.
Utilizing Human Resources
Superior human resources are required to devise and implement the company's bold initiatives. To ensure long-term sustainability and leadership, DOCOMO proactively nurtures its workforce through a number of forward-thinking policies and measures:
Stimulation of employees' challenging spirit
Corporate culture unrestricted by conventional thinking or systems
Dynamic internal communication free of vertical or horizontal barriers
Open corporate culture that welcomes the ideas and views of all employees
Creative office environment in which individuals can find fulfillment
Respect for the individuality and values unique to each person
Personnel evaluations based on merit
To achieve the goals
DOCOMO empowers individuals to achieve their utmost capabilities and thereby discover new potential. The company motivates employees not only by providing a dynamic workplace, but also by offering enlightened labor conditions and enhanced health and welfare benefits.