Press Releases
January 20, 2023
DOCOMO to Exhibit at World's Largest Mobile Exhibition: MWC Barcelona 2023

Company's first onsite exhibit in 4 years will present advanced mobile technologies and businesses
TOKYO, JAPAN, January 20, 2023 --- NTT DOCOMO, INC. announced today that it will organize a full-scale booth at MWC Barcelona 2023, the world's largest mobile-related exhibition, in Barcelona, Spain from February 27 to March 2.
The DOCOMO booth, which will showcase exhibitions and presentations focused on the main themes of 6G, open radio access networks (Open RAN) and extended reality (XR), will also promote international standardization and global business for next-generation communication technologies. Due to the global pandemic, this will be DOCOMO's the first onsite appearance at MWC Barcelona since 2019.*1
In the 6G section, DOCOMO will present the coming 6G world and advanced wireless technologies that the company is currently developing. This will include a demonstration of the Human Augmentation Platform to communicate haptic sensations between people connected to a 6G network to enable, for example, a musical student to mimic the exact finger motions of a teacher.
In the Open RAN section, DOCOMO will present experiential content to help visitors understand the concept and structure of Open RAN, as well as progress being achieved to enable multi-vendor telecommunication equipment*2 to be combined in Open RAN, as well as related collaborations with international carriers.
In the XR section, visitors will experience the metaverse filled with music, anime and movies and also a virtual-live system, both provided by NTT QONOQ, INC., a company launched by DOCOMO's parent NTT group last October to promote XR business.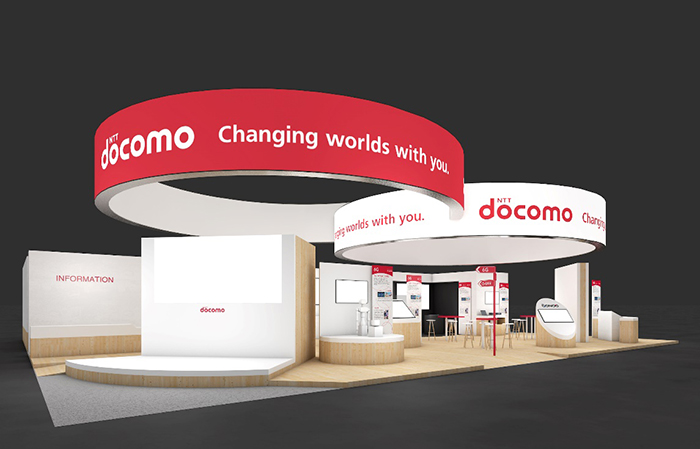 Through this exhibition, DOCOMO looks forward to globally communicating its advanced technologies and businesses under the company's brand slogan "changing worlds with you."
For more about DOCOMO's exhibits and the overall exhibition, please refer to the appendix.
DOCOMO organized an exhibition in Japan in 2021 and then one online in 2022.
Appendix
Overview of NTT DOCOMO Booth at MWC Barcelona 2023
1. Exhibitions
Exhibitions
Theme
Exhibits
Contents
6G
Human Augmentation Platform
As an example of this 6G application, presenters will use haptic information to teach musical techniques and guide a robot in whisking green tea.
Wireless Technologies
DOCOMO's technical approaches to the realization of 6G will be introduced with detailed explanations.
Open RAN
Interactive Contents
Experiential content in the form of a simulation game will allow visitors to grasp the overview and structure of Open RAN.
Shared Open Lab Virtual Tour
This Open RAN verification facility located at the DOCOMO R&D Center in Japan will be introduced in 3D.
XR
XR World
This metaverse diorama will enable people to view a life-size Godzilla from various angles.
Matrix Stream
Presenting NTT QONOQ's virtual-live and general-purpose video-delivery system for extended reality
Mixed Reality Animals — Volumetric Video × Magic Leap 2
Videos of real cats and penguins will be converted to 3DCG and projected into real space using a Magic Leap 2 MR headset.
2. NTT DOCOMO Booth Location
4E50, Hall 4
3. Presentations
Presentations
1
Broadcast Stage
On the Forefront of Open RAN Implementation
When: Monday, February 27 from 15:45 to 16:15 (local time)
Where: Broadcast Studio, Hall 4
Speaker: Mr. Sadayuki Abeta, OREC evangelist, NTT DOCOMO
2
5G Futures Summit
Session 4: Driving Supply Chain Resiliency & Interoperable Networks
When: Wednesday, March 1 from 14:50 to 15:50 (local time)
Where: Theatre 2, Hall 6
Speaker: Mr. Sadayuki Abeta, OREC evangelist, NTT DOCOMO
URL: https://www.mwcbarcelona.com/agenda/session/5g-futures-summit
Note: The content and schedule of the presentations are subject to change. Please check the official website of MWC Barcelona 2023 for the latest information.
Reference
MWC Barcelona 2023
1. Dates & Times
Monday, February 27 to Thursday, March 2
08:30 to 19:00, except last day from 08:30 to 16:00 (all times local)
2. Venue
Fira Gran Via
Av. Joan Carles I, 64
08908 L'Hospitalet de Llobregat
Barcelona, Spain
3. Official Website


https://www.mwcbarcelona.com/