Press Releases
February 3, 2021
Creation of "5G Open RAN Ecosystem" to Accelerate Open RAN to Operators Globally
TOKYO, JAPAN, February 3, 2021 --- NTT DOCOMO, INC. announced today that it has agreed with 12 companies --- Dell Technologies Japan Inc., Fujitsu Limited, Intel K.K., Mavenir, NEC Corporation, NTT DATA Corporation, NVIDIA, Qualcomm Technologies, Inc., Red Hat, VMware K.K., Wind River and Xilinx, Inc. --- to cooperate towards the "5G Open RAN Ecosystem" with the objective to globally accelerate open radio access networks (open RAN), and help enable flexible network deployment to serve diverse company and operator needs in the 5G era.
The O-RAN ALLIANCE, which DOCOMO has led since its launch in early 2018, has been developing specifications and promoting products that allow operators to more freely combine disaggregated base station equipment. On the other hand, in order to bring out performance with products from different vendors, there are issues that are only found at interoperability testing which operators actually introducing open RAN have to deal with.
DOCOMO will start discussions with the 12 companies on accelerating open RAN introduction to operators. Specifically, DOCOMO's target is to package best-of-breed RAN and to introduce, operate and manage them based on demands from operators considering open RAN introduction. By leveraging its years of activities in driving open network and know-how (which realized the world's first open RAN for 5G using O-RAN specification), DOCOMO is committed to maximize companies' strengths in furtherance of the 5G Open RAN Ecosystem, and providing high-quality and flexible networks.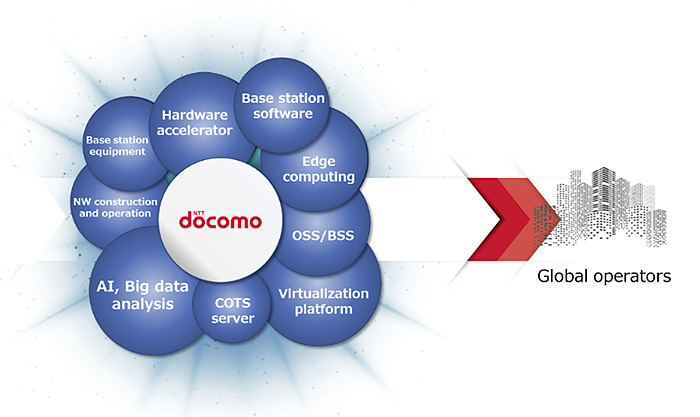 Additionally, DOCOMO will develop virtualized RAN (vRAN) with higher flexibility and scalability to further drive open RAN targeting commercialization in 2022. As commercial off-the-shelf (COTS) servers can be used and dedicated equipment are not required for vRAN, it is possible to realize flexible and cost-efficient networks. Beginning immediately, DOCOMO will start discussion towards verification of vRAN, including performance assessments. As for the vRAN verification environment that will be constructed, opportunities for remote usage will be made available for operators themselves to freely conduct tests.
Going forward, DOCOMO will continue to cooperate with various industry partners towards accelerating wide adoption of open network, especially O-RAN and vRAN, which can cater for diversifying needs with flexibility and agility.