FY2020 Business Management Policy
Start Year for Growth in the New Era
We positioned FY2020 as the "start year for growth in the new era" of the 2020s, during which we will address "three key initiatives" and "structural reform" that will underpin these activities.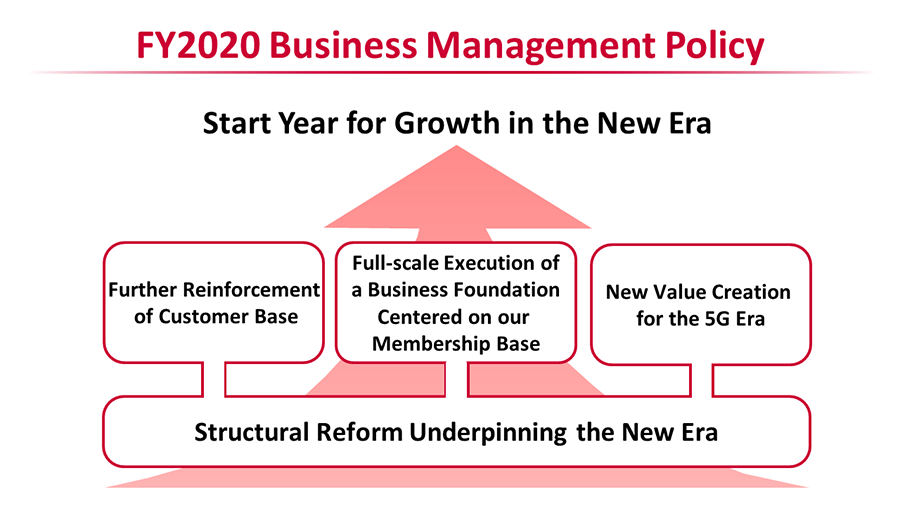 (1) "Further Reinforcement of Customer Base"
<Provision of Compelling Rate Plans and Early Expansion of 5G Coverage>
As the competitive environment enters a new phase with the commencement of commercial 5G service and full-scale market entry by a new network operator, we will further enrich our rate plans responding to the diverse usage needs of customers and steadily work on the early rollout of 5G area coverage, one of the sources of our competitiveness, toward the goal of further solidifying our customer base.
<Refinement of Customer Touchpoints>
We will also continue our endeavors to improve customer's experience, by further reducing the wait time and attendance time, ensuring the provision of basic support to customers and offering value-added support to customers in collaboration with our partners (e.g., Mercari classes) at our brick-and-mortar shops, while at the same time strengthening the capabilities of our web channel.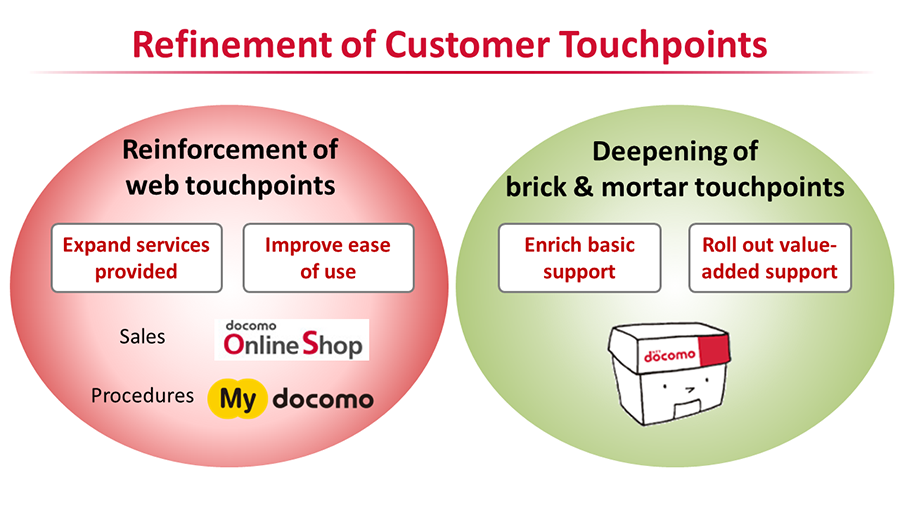 <Enhance Attractiveness of Membership Program>
With respect to our membership base, we will strive to further improve our membership services through various measures, e.g., by expanding the network of stores participating in the "d POINT" program to make it more accessible to customers, with the aim of enhancing the "quality" of our membership base.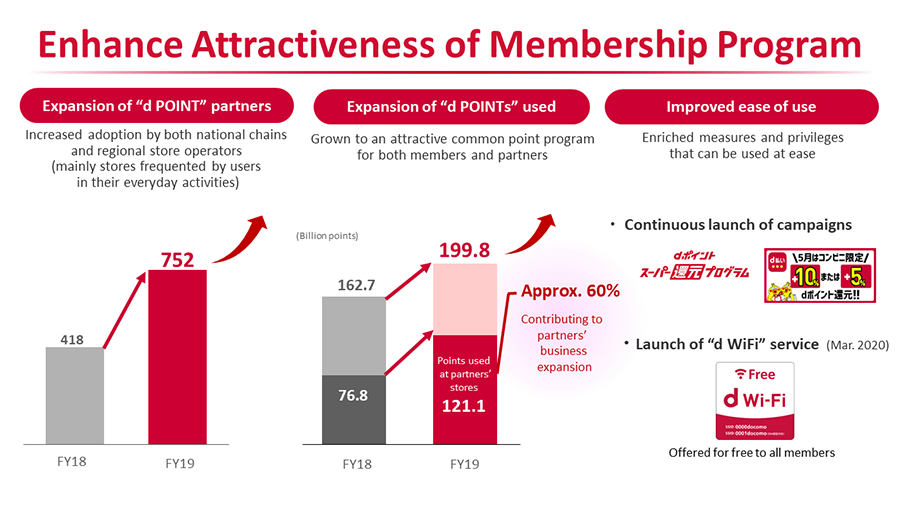 (2) "Full-Scale Execution of a Business Foundation Centered on our Membership Base"
<Establish a Robust Ecosystem Connecting Customers and Partners>
We will pursue one of the basic policies of our medium-term strategy, a "business management centered on our membership base" even further. We aspire to deliver a customer journey that connects them with our services/partners by developing strong touchpoints that serve as an entry point to our offerings (e.g., applications and media used by customers on a daily basis) and by making an optimal approach to customers through digital marketing.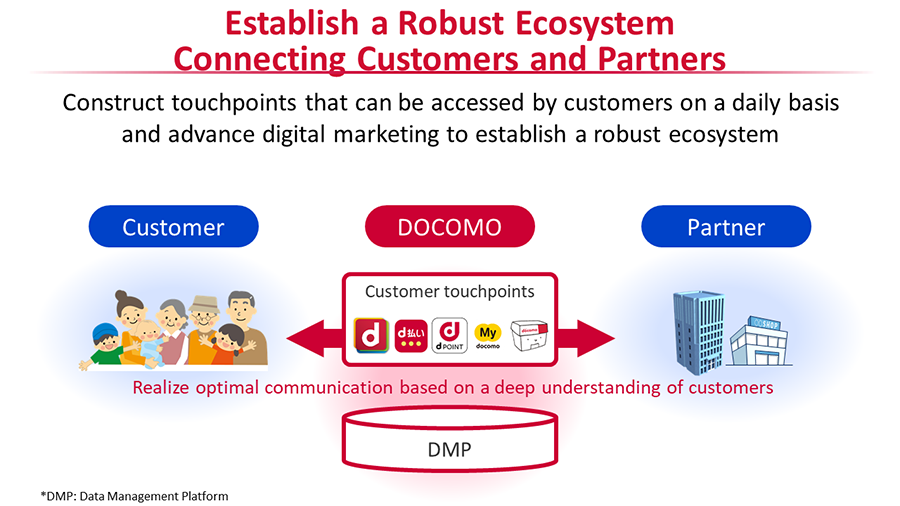 <Concentrate and Strengthen Resources in Growth Areas>
In our Smart life business, we will concentrate our resources in three priority areas.
For finance/payment services, we will strive for further expansion of our merchant network and strongly promote the use of "d CARD" and "d Payment" as an everyday means for payment. We will also reinforce our content services with a primary focus on video- and entertainment-related offerings to further expand the size of this business. Furthermore, we plan to newly establish marketing solution business by leveraging our solid membership base. We will further expand the advertisement business fine-tuned for different member attributes, such as "d Menu" and "LIVE BOARD", and reinforce our CRM offerings by coordinating data with our strategic partners in a bid to develop data utilization business in full throttle.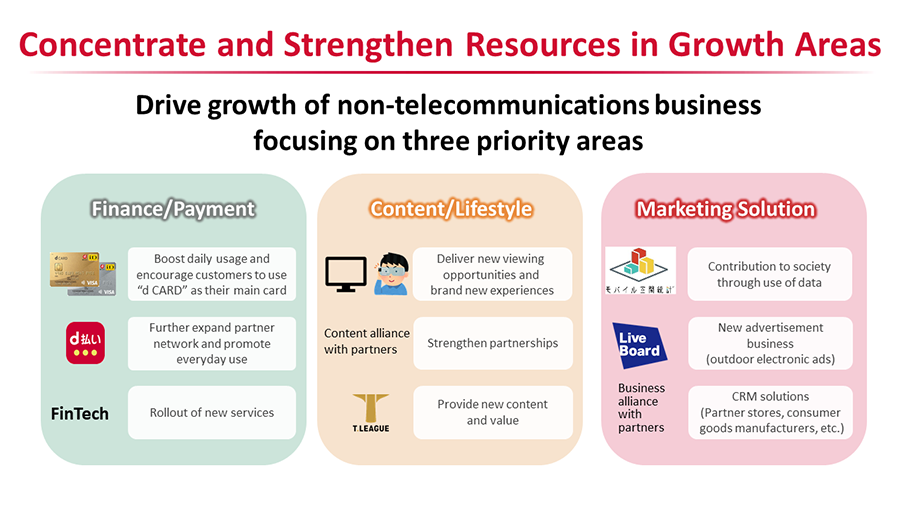 (3) "New Value Creation for the 5G Era"
<Delivery of New Video Viewing Style and New Solutions that Leverage 5G's Unique Properties>
For our sustained growth in the 2020s, we will tackle new value creation centered on commercial 5G services launched in March 2020.
We will push forward with the "MY NETWORK" initiative to deliver 8KVR live performances, multi-angle viewing, gaming and other video-based new experience and sensory services through the coordination with various peripheral devices.
Meanwhile, we will step up our co-creation activities with our partners, to provide solutions that take advantage of "docomo Open Innovation Cloud" and other strengths of 5G, primarily in the three priority areas to create new markets.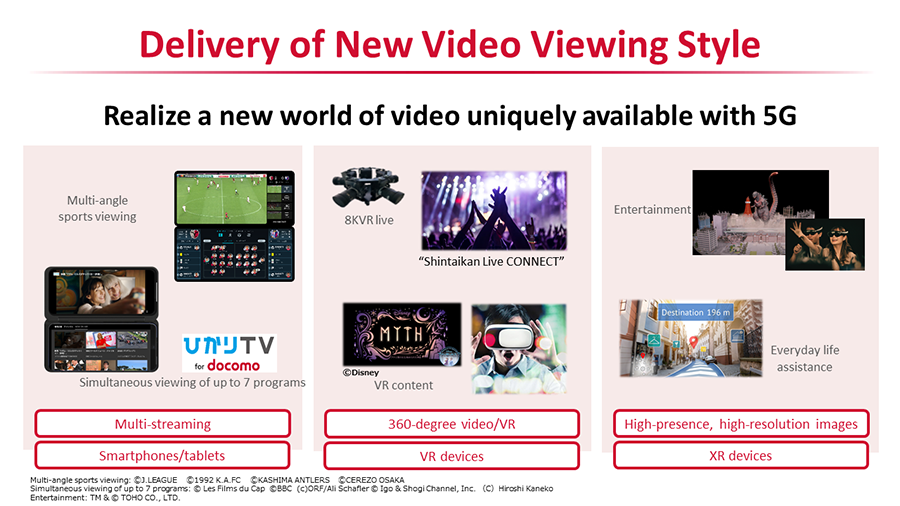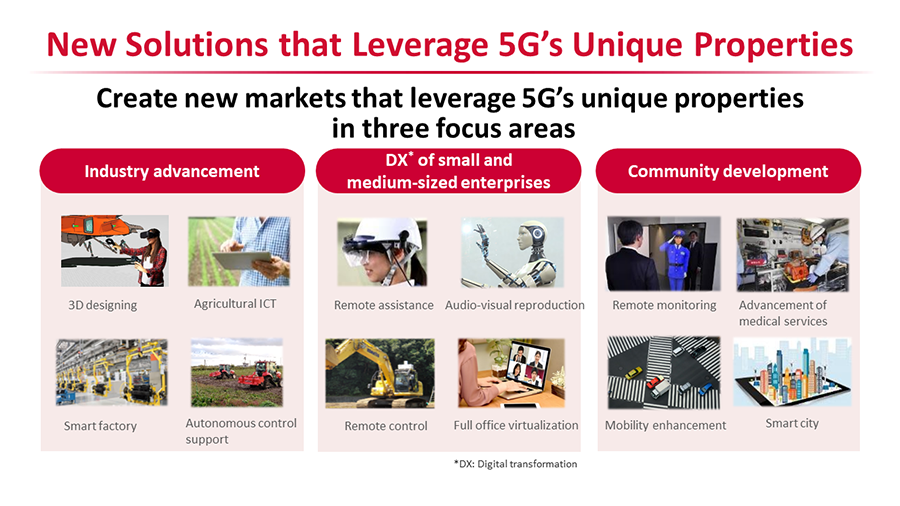 <New Value Creation for Sustained Growth>
Envisaging further ahead, we will address the challenge of new business creation in the areas of healthcare, MaaS, etc., to contribute to the structural transition to a remote-work society.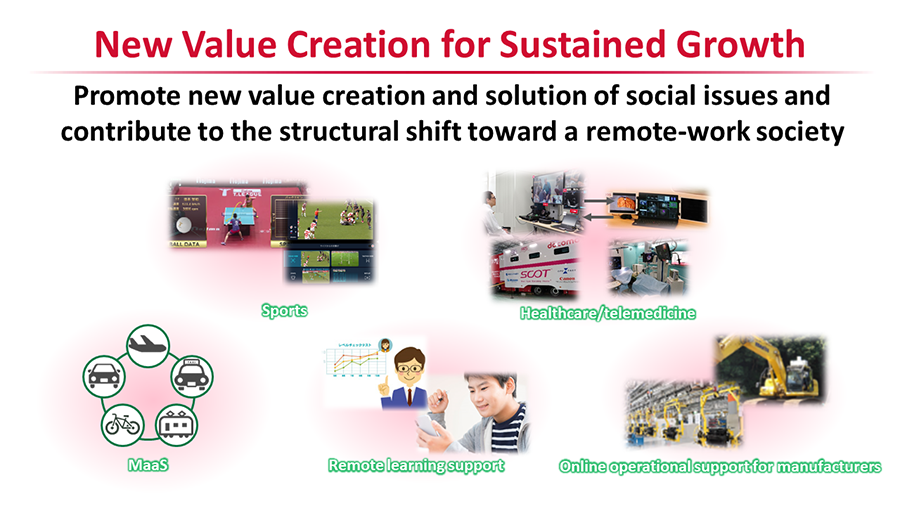 "Structural Reform Underpinning the New Era"
<Step Up 3G Subscriber Migration and Improved Efficiency of Every Business Process>
We will constantly perform a review on the way we operate our business, and execute the maximum level of efficiency improvement to establish a business structure that will allow us to stay competitive in both telecommunications and non-telecommunications businesses.
As a symbolic example of this endeavor, we will step up the migration of 3G subscribers to reduce the burden of operating three generations of networks (3G, 4G and 5G) in parallel and to concentrate our managerial resources on 5G. Also, by promoting DX (digital transformation), we will improve the efficiency of every business process, e.g., reducing the attendance time and staff workload at shops and adopting AI for equipment failure detection, etc., and reallocate the freed-up resources to growth areas.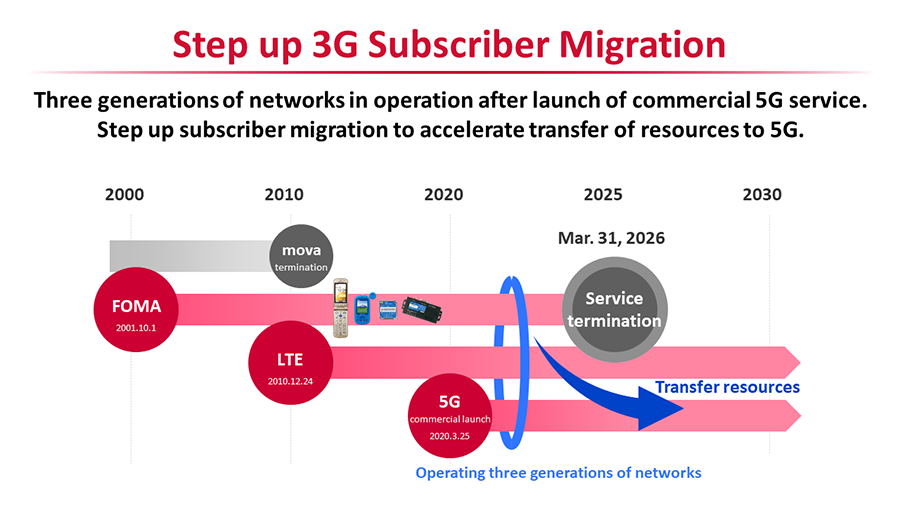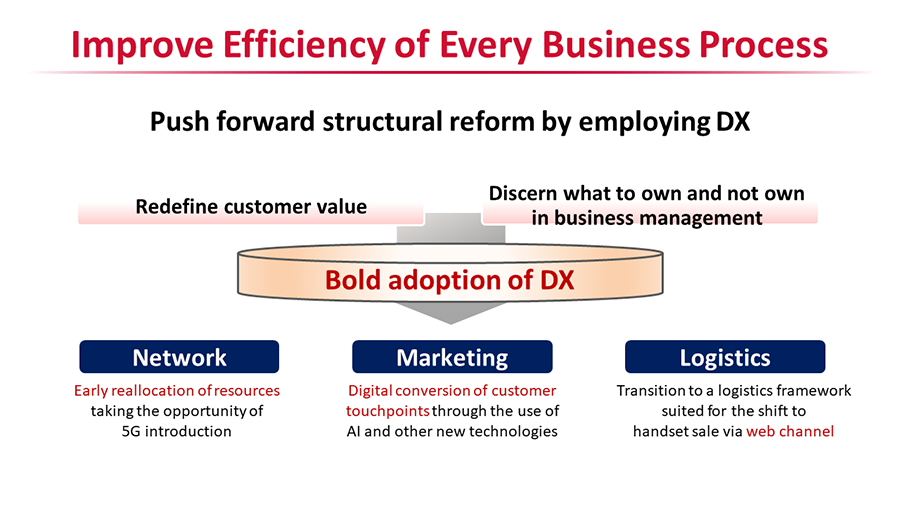 "Impact of COVID-19"
<FY2020 Guidance>
We decided not to disclose FY2020 guidance at this juncture (June 2020) given the difficulty of making a reasonable estimate on our financial results due to the impact of COVID-19. We intend to provide the FY2020 guidance promptly once it becomes possible to perform a reasonable estimate following a careful determination of its future financial impact.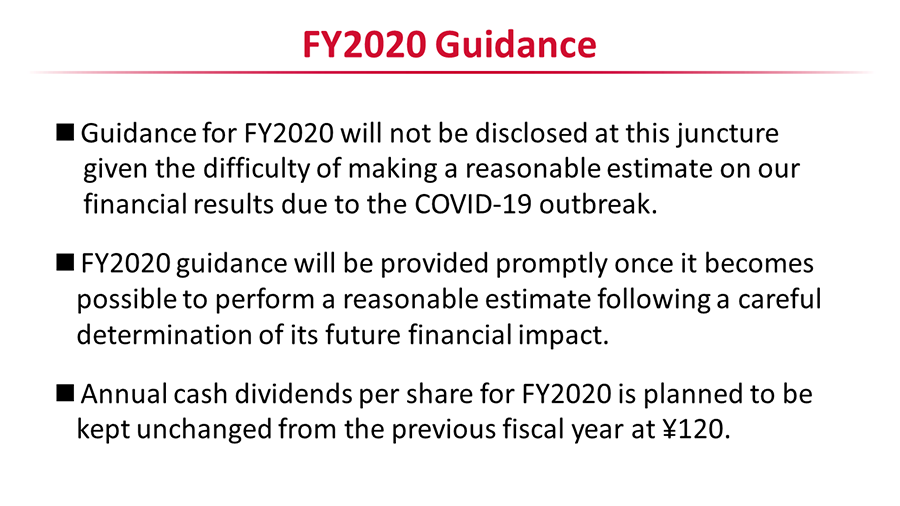 <Toward the New Post-Coronavirus Society>
We are committed to making every effort to ensure stable operation of telecommunications services to fulfill our mission as a telecommunications service provider. We also believe there are roles that we can uniquely fulfill and things that only we can offer. While preventing the spread of the new coronavirus infections, we will respond to the changes in social structure that is shifting to remote, and make all-out efforts toward new value creation and solution of social issues.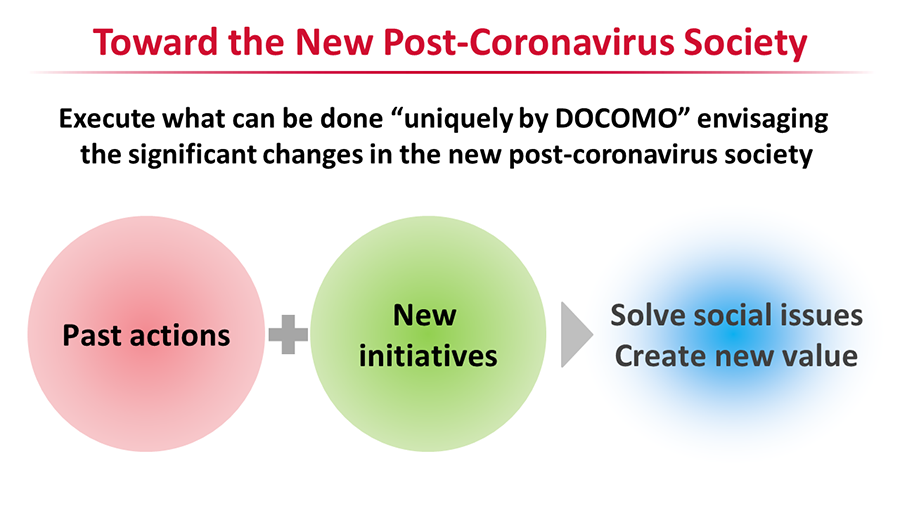 In order to view PDF files, you must have the Adobe® Reader® plug-in offered free of charge from Adobe Systems, Inc. When viewing the PDF files with Adobe® Acrobat®, use version 10 or later.