Press Releases
November 6, 2023
NTT DOCOMO Group Furthers Commitment to Carbon Neutrality by 2040, Targeting Net-Zero Greenhouse Gas Emissions Across its Supply Chain
TOKYO, JAPAN, November 6, 2023 --- NTT DOCOMO Group (DOCOMO Group) announced today its "Net-Zero by 2040" plan for achieving Net-Zero carbon emissions across the company's entire supply chain by 2040. The plan builds on DOCOMO Group's existing 2030 Carbon Neutrality Declaration, which commits the company to effectively reducing greenhouse gas emissions from its business operations to Net-Zero by 2030 under the slogan "Saving Our Planet With You."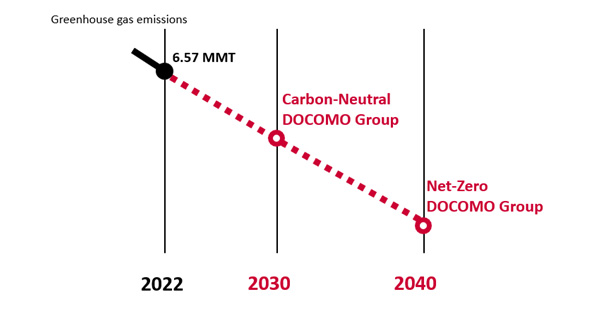 To achieve its expanded carbon-neutrality target by 2040, DOCOMO Group will work to reduce greenhouse gas emissions throughout its supply chain, which currently accounts for about 80% of the company's total greenhouse gas emissions. The plan includes reducing Scope 1 (direct) and Scope 2 (indirect) greenhouse gas emissions from DOCOMO Group's own fuel and electricity consumption, as well as Scope 3 emissions from the business activities of suppliers and product users in DOCOMO Group's supply chain.
As part of its commitment to achieve carbon neutrality by 2030, DOCOMO Group has been actively working to use renewable energy, including non-fossil fuel certificates designated as renewable energy, through measures such as securing off-site power purchase agreements,*1 powering all DOCOMO-owned telecommunications buildings and offices with green electricity within fiscal 2023 (ends March 2024), and introducing virtualized wireless base stations equipped with power-saving devices to reduce network power consumption.
Specific measures under Net-Zero by 2040 include the goal of converting all DOCOMO Shops to green power by fiscal 2030 and prioritizing environmentally friendly products when procuring telecommunications equipment and other items. In addition, DOCOMO Group will collaborate with suppliers to provide companies within its supply chain with CO2MOSTM, a CO2 emissions visualization tool, analytical consulting services, as well as Green NexcenterTM, a service that will support the use of liquid-cooled equipment in ultra-energy-saving data centers.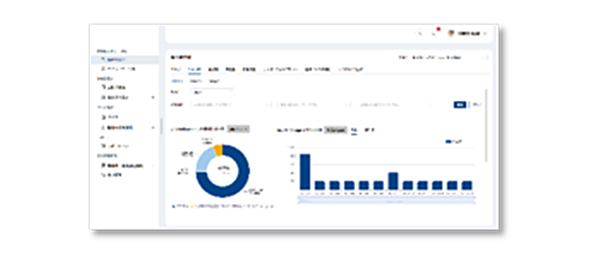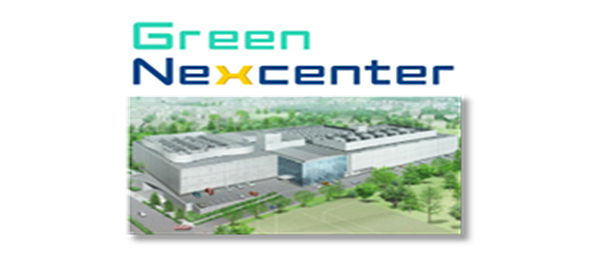 DOCOMO Group is also contributing to global decarbonization through its Caboneu program for collaborating with customers and partners on various initiatives, including the Caboneu Record® visualization tool, the Green Program for EmployeesTM and other eco-friendly services, and the creation of J-credits with partner companies.
Going forward, DOCOMO Group is committed to contributing to the realization of carbon neutrality in collaboration with its partner companies.
A model in which consumers contract with power producers to purchase electricity from renewable energy sources on a long-term basis, and the electricity is transmitted from generation facilities in remote locations to consumers via the power transmission and distribution network.
"Caboneu Record" is a registered trademark of NTT DOCOMO, Inc.
"CO2MOS", "Green Nexcenter" and "Green Program for Employee" are trademarks of NTT Communications Corporation.
Appendix
Overview of DOCOMO Group's Net-Zero by 2040 Plan
1. Internal initiatives (Scope 1 and Scope 2)
| | |
| --- | --- |
| Improved network energy efficiency | Network power will be reduced by deploying 5G power-saving devices through RAN virtualization (vRAN) and by introducing base station sleep functions and green base stations to reduce power consumption up to 30% on average. |
| Active use of renewable energy | Within fiscal 2023, all DOCOMO-owned buildings and network facilities will green electricity. By 2030, the company's entire business operations will be powered by green electricity. By 2024, test operation of a virtual power plant using small, distributed storage batteries will begin, and tests of solar panels and storage batteries will be conducted with a view to commercialization. |
| Other innovative developments | By 2030, technologies for IOWN optoelectronic convergence, faster communications and power savings will be introduced in next-generation networks, information processing infrastructure, and other areas. |
| Green 5G | Provide 5G networks powered effectively with 100% renewable energy. |
2. External supply-chain initiatives (Scope 3)
Use of green electricity in DOCOMO shops
The use of 100% renewable energy, including use non-fossil fuel certificates designated as renewable energy, will be targeted at all DOCOMO shops by fiscal 2030.
Reduced GHG emissions across the supply chain
Promote the adoption of environmentally conscious supplier and products in the procurement of communication infrastructure and related equipment.

Provide suppliers with the CO2MOSTM tool for visualizing GHG emissions from products and facilities, and also analytical consulting services.
Environmentally friendly delivery system
Improve delivery efficiency by integrating distribution bases and promote the use of eco-friendly materials, including biomass, for transportation-related packaging.
Sustainable, eco-friendly smartphones
Promote sales of green smartphones and other products, including to reduce CO2 emissions during manufacturing, and publish the eco-friendliness of each model as well as link this data to the Caboneu Record® tool to visualize the environmental contributions of customer choices.
More energy-efficient data centers
Within fiscal 2024 (planned), introduce the Green NexcenterTM service for direct liquid cooling*1 of server equipment in ultra-energy-saving data centers, including renovated and newly constructed facilities, to support sustainability management by customers.
3. Initiatives with customers and partners
| | |
| --- | --- |
| Visualization of energy use in daily life | Offer the Caboneu Record® service to help consumers visualize their daily CO2 reduction and other contributions to eco friendliness, and the Green Program for EmployeesTM to help corporate customers visualize CO2 reductions to motivate employees, develop eco-minded personnel and foster eco-compatible corporate culture. |
| Personalized services | Promote ESG investment through Point Investment, use recycled materials for the d Card®, provide the DOCOMO Bike Share service, and offer DOCOMO Denki Green electricity plans for virtually zero CO2 emissions*2 from renewable energy. |
| Eco-friendly DOCOMO shops | Accept unwanted clothing and other items at DOCOMO Shops for reuse through the Jimottee Sukusuku Baton and Fukuro programs. |
| J-credits with partner companies | Collaborate with partners to create J-credits that support forests and reduce methane gas from rice paddies. |
Method for cooling heat-generating processors on server equipment motherboards by supplying liquid directly to the heat sink used to dissipate heat from the component

Includes use of non-fossil certificates for LNG-fired and other power sources
"d Card" is a registered trademark of NTT DOCOMO, INC.