Press Releases
February 27, 2023
DOCOMO and NTT Expand 6G Collaborations with World-leading Vendors Including Ericsson and Keysight Technologies
TOKYO, JAPAN, February 27, 2023 --- NTT DOCOMO, INC. (DOCOMO) and Nippon Telegraph and Telephone Corporation (NTT) announced today that they will expand their 6G experimental trials*1 with five world-leading vendors, including with newly added Ericsson and Keysight Technologies, Inc. (Keysight Technologies) as well as existing collaborators Fujitsu, NEC and Nokia.
In preparation for the future launch of 6G services, DOCOMO and NTT are actively engaged in the verification of various mobile communication technologies for purposes including the use of millimeter and sub-terahertz (above 6 GHz) frequency bands,*2 in addition to bands currently used for 5G. DOCOMO and NTT have been collaborating with Fujitsu, NEC and Nokia on trials*3,*4 of such technologies as well as related AI technologies since June 2022.
DOCOMO, NTT and Ericsson have now formally agreed to begin testing new 6G wireless interfaces for mid-band 6-15GHz frequencies as well as sub-terahertz 100GHz bands capable of ultra-fast data transmission. Also, DOCOMO, NTT and Keysight Technologies have agreed to test radio propagation for ultra-wideband communication using sub-terahertz bands.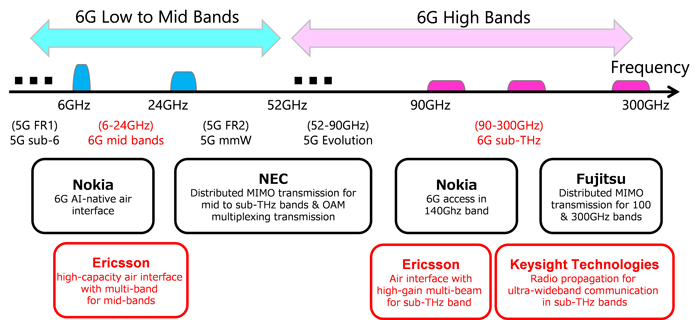 Going forward, DOCOMO and NTT will conduct further trials under this newly expanded structure as well as pursue the development of mobile communication technologies with other vendors who possess special expertise. By steadily accelerating such R&D initiatives, DOCOMO and NTT aim to contribute to the early standardization and commercialization of 6G worldwide.
The newly announced initiatives will be introduced at DOCOMO's booth during MWC 2023 in Barcelona, Spain beginning on February 27.
Sub-terahertz bands are between 90 and 300 GHz, which is higher than frequencies envisioned for 5G Evolution. Compared to millimeter bands, these bands are more linear and more susceptible to shielding by obstacles.

Nokia, DOCOMO and NTT make two key 6G advances #MWC23

https://www.nokia.com/about-us/news/releases/2023/02/15/nokia-docomo-and-ntt-make-two-key-6g-advances-mwc23/