Press Releases
January 30, 2023
DOCOMO Conducts World's First Trial of Transmissive Metasurface on Window to Deliver Indoor Radio Waves to Outdoor Foot of Building

—Millimeter-wave connection improved at foot of building
TOKYO, JAPAN, January 30, 2023 --- NTT DOCOMO, INC. announced today that it has succeeded in what it believes to be the world's first trial of redirecting millimeter-band (28 GHz) radio waves coming from inside a building to the foot of the building outdoors by bending the radio waves with a film-shaped transmissive metasurface*1 attached to a window surface. The trial was conducted from October to November 2022 at the DOCOMO R&D Center in Yokosuka, Japan, aiming at realization of advanced fifth-generation (5G Evolution) and sixth-generation (6G) mobile communication systems.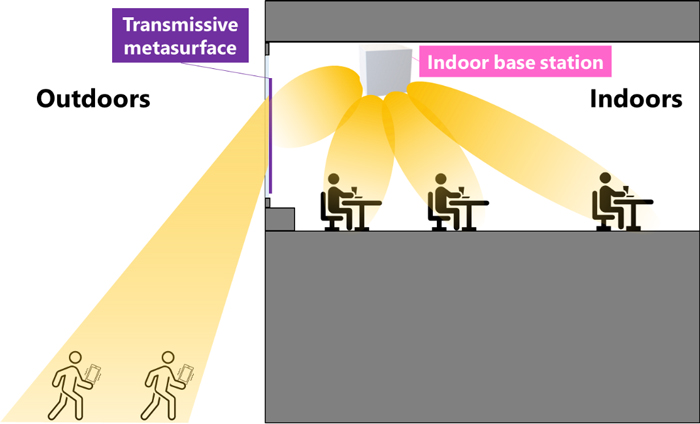 High-frequency radio waves, which are expected to be used in 5G Evolution and 6G, have difficulty coming around behind obstacles and are easily attenuated as propagation distances increase. DOCOMO has also been studying the use of metasurface technology to enhance radio signal reception indoors using outdoor base station*2, and to improve indoor with many obstructions as a user moves*3.
Radio waves in the high-frequency band have difficulty reaching places that are not in the line of sight of the transmitting base station installed on the rooftop of buildings, making it difficult to create reception areas at the foot of buildings. One of the solutions is to install antennas on a neighboring structural object, but there are cases where such installation is not possible due to landscape and other issues. This trial was conducted in order to expand the area coverage around the foot of a building.
The transmissive metasurface for the 28 GHz band used in the trial is a metasurface designed and processed to bend millimeter wave bands passing through a glass window in a specific direction, in this trial, towards the bottom of a building's exterior*4. The film-shaped material was attached to the window glass on the interior side, making it easier to install, and its transparency did not spoil the landscape and existing design. In addition, the transmissive metasurface is designed not to affect other frequency bands such as LTE and Sub-6 bands.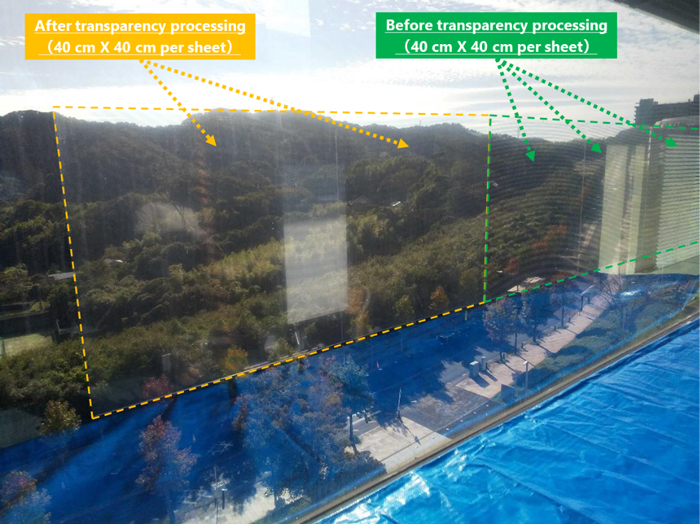 Millimeter waves from a base station installed indoor passed through transmissive metasurfaces on the window glass and throughput performance in the foot area of the building was measured. We confirmed that the throughput performance in the foot area was greatly improved by bending the millimeter waves with the transmissive metasurfaces.

DOCOMO is also researching and developing various technologies to improve indoor and outdoor coverage in the high frequency bands. For example, it may be possible to direct signals from Multi-Sector Antenna Indoor Base Station, as announced by DOCOMO on January 30*5, to the transmissive metasurface attached to a glass window to improve both indoor and outdoor area coverage. Also, in the future, when constructing a massive multiple-input multiple-output (MIMO) system that uses much larger number of antennas, it may be possible to achieve an equivalently large-scale configuration with a relatively small number of antennas at a low cost by applying metasurface technology*6.
Going forward, DOCOMO will continue to research and develop efficient and flexible construction of reception areas and radio configurations for 5G Evolution and 6G.
The transmissive metasurface used in the trial will be exhibited at "docomo Open House '23," which will be held online from Thursday, February 2.
Metasurfaces are a type of artificial medium (metamaterial) that achieve arbitrary permittivity and permeability by periodically arranging structures that are small in relation to wavelength, and are artificial surfaces in which the periodic arrangement of structures is two-dimensional.

The transmissive metasurfaces were designed and provided based on the cooperation of AGC Inc.

"5G Evolution and 6G (5.0 version)," NTT DOCOMO (November 2022)

https://www.docomo.ne.jp/binary/pdf/corporate/technology/whitepaper_6g/DOCOMO_6G_White_PaperJP_20221116.pdf [PDF format:7,755KB]

(Japanese only)