Press Releases
October 9, 2018
DOCOMO Adds "docomo Wi-Fi" to Prepaid SIM Service for Travelers to Japan
TOKYO, JAPAN, October 9, 2018 --- NTT DOCOMO, INC. (DOCOMO) announced today that it has added Wi-Fi® functionality to its Japan Welcome SIMTM prepaid SIM card service to provide travelers to Japan with fast and easy access to "docomo Wi-Fi" hotspots nationwide without any complicated set-up.
The new Japan Welcome SIM & Wi-FiTM service provides access to docomo Wi-Fi secure public wireless LAN hotspots across Japan, including sightseeing spots, train stations, airports and cafes.
Despite improvements to Japan's public wireless LAN in the lead-up to 2020, a survey conducted by the Japan Tourism Agency found that the biggest complaint inbound travelers have when using Wi-Fi is the cumbersome authentication process. DOCOMO's authenticated SIM, however, overcomes this by seamlessly switching between the DOCOMO mobile network and docomo Wi-Fi hotspots.
In conjunction with the service enhancement, DOCOMO will begin offering "Plan XL", a 2 GB plan catering to customers seeking extra data and higher speeds, on October 9. The first 999 customers to apply can purchase the plan for just 1,944 yen, down from 3,024 yen (must be purchased during promotion period using coupon code).
Additionally, DOCOMO will extend its SIM card service by 5 days to 20 days in total for a limited time (promotion end date will be posted on website 150 days prior to final day).
In the lead-up to 2020, DOCOMO will continue supporting inbound tourism with communication services, AI-supported, useful tourism information and convenient mobile translation services, aiming to enhance the convenience and enjoyment of visiting Japan.
Service Scheme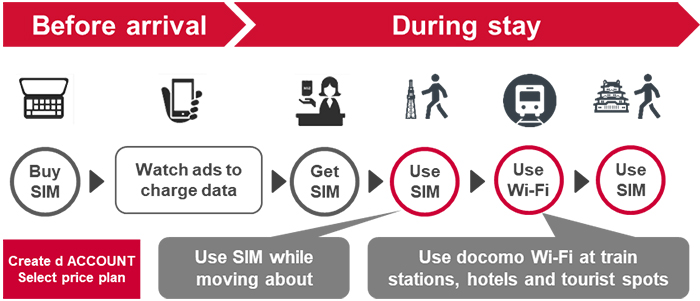 Outline of Japan Welcome SIM & Wi-Fi
1. Pricing
Plan
Plan 0
Plan S
Plan M
Plan L
Plan XL
Prepaid SIM (tax incl.)
¥01
¥1,080
¥1,836
¥2,376
¥3,024
High-speed data allowance
100 MB +
0 MB
600 MB
1.2 GB
2 GB
Service period
20 days from activation during promotion.
Promotion end date will be posted on the Japan Welcome SIM & Wi-Fi website 150 days prior to the scheduled final date.
Wi-Fi access/128 Kbps data communications
Unlimited
Data recharge
Earned
The data allowance may be recharged by viewing advertising videos, answering a questionnaire, etc., as follow:
view advertising videos: +10 MB; answer questionnaire: +10 MB;
install application: +50 MB; view advertorial: +10 MB
Purchased
100 MB for ¥216; 500 MB for ¥756 or 1 GB for ¥1,296

2. Service specifications
Application
Japan Welcome SIM & Wi-Fi website:

Eligible users
Foreign visitors in Japan aged 20 or above
Website languages
English, Chinese (traditional & simplified), Korean and Japanese
SIM card pickup locations
Japanese: https://wow-j.com/jp/sim_wifi/place/
English: https://wow-j.com/en/sim_wifi/place/
SIM card type
3-in-1 SIM (standard, micro and nano)
Mobile service area
DOCOMO's 4G/LTE and 3G networks
Wi-Fi service area
docomo Wi-Fi hotspots using the SSID "0001doocmo"
Network speed
High speed2: download at max. 988 Mbps, upload at max. 75 Mbps
128 Kbps data communications: download at max. 128 Kbps, upload at max. 128 Kbps
Applicable devices
SIM lock-free device or other device meeting the following criteria:

Used with a SIM card under contract with a DOCOMO roaming partner in user's country, or certified to conform to Japan's technical standards
Supports any of the following spectrums:
4G/LTE: Band 1, 3, 19, 21 or 28
FOMA

TM

(3G): Band I, VI or XIX
Supports Wi-Fi using EAP-AKA authentication

Payment method
Credit card
Prior to receiving the SIM card, there is a requirement to watch certain advertisements and fill out a survey.

This service is only available in certain areas. Indicated communication speeds are the maximum values based on technical standards and are not representative of actual communication speeds. Actual communication speeds may vary depending on the network environment and user's device.
Wi-Fi is either a trademark or registered trademark of Wi-Fi Alliance.

"Japan Welcome SIM", "Japan Welcome SIM & Wi-Fi" and "FOMA" are trademarks of NTT DOCOMO, INC.