TOKYO, JAPAN, July 26, 2012 --- NTT DOCOMO, INC. announced today the August 1 launch of the Raku-Raku SMART PHONE, the first smartphone designed for users who are new to touchscreen operations.
The Raku-Raku SMART PHONE's touch screen mimics the impression of a conventional phone key, allowing users to first confirm where their finger is touching by highlighting the contact point and then requiring them to press more strongly to actually select the menu button or icon. The device confirms the selection with a slight vibration and click.
The smartphone boasts a generous 4-inch display with a simplified menu and large fonts for increased clarity and ease of use. The menu has three large, easy-to-understand buttons for the most commonly used functions-phone, email and phonebook-and also includes three programmable one-touch speed dial buttons. Additionally, users can access a dedicated telephone support center at the touch of a button on the home screen.
As a special introductory offer, a dedicated new "Raku-Raku Pake-hodai" flat-rate packet service will start with the launch of the Raku-Raku SMART PHONE, at the discounted rate of just 2,980 yen per month. DOCOMO is now accepting preorders at all DOCOMO shops.
Raku-Raku SMART PHONE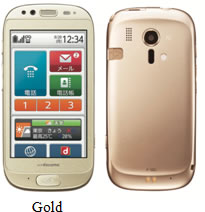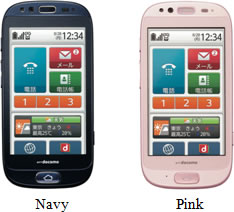 (Attachment) Main Specifications of Raku-Raku SMART PHONE

(Attachment) Selected Services/Features Available in Raku-Raku SMART PHONE

About NTT DOCOMO

NTT DOCOMO is a world-leading integrated-services company centered on mobility. The company serves over 60 million mobile customers in Japan via advanced wireless networks, including a nationwide 3G network and one of the world's first commercial LTE networks. Leveraging its unique capabilities as a mobile operator, DOCOMO is a leading developer of cutting-edge technologies for NFC mobile payments, mobile GPS, mobile TV, intuitive mobile assistance, environmental monitoring, smart grids and much more. Overseas, the company provides technical and operational expertise to eight mobile operators and other partner companies. NTT DOCOMO is listed on the Tokyo (9437), London (NDCM) and New York (DCM) stock exchanges. Please visit www.docomo.ne.jp/english for more information.
All trademarks are the property of their respective owners.