TOKYO, JAPAN, February 29, 2012 --- NTT DOCOMO, INC., Japan's leading mobile operator and provider of integrated services centered on mobility, announced today a partnership with California-based Eye-Fi, Inc., maker of the world's first Wi-Fi® compatible SD™ and SDHC™ cards. Working together, the companies plan to integrate DOCOMO's mobile "personal cloud" system for individual-oriented cloud-based services and other related services and Eye-Fi's "View" cloud service and multiplatform, instant photo/video uploading system. As part of the partnership, and to build a strong relationship between the two companies, DOCOMO has led the $20 million Series D investment round of funding for Eye-Fi, with a $14 million U.S. dollar investment.
Once the partnership kicks off in March, DOCOMO will combine its Otayori Photo Service™, which sends uploaded photos to 3G-capable digital photo frames, and Eye-Fi's SD/SDHC card, which instantly uploads photos from digital cameras. As a result, DOCOMO customers will be able to easily send photos from their digital cameras to Otayori Photo Service without having to connect the camera via a USB or communication cable.
Eye-Fi's latest cards, which will be made available from April, do not require initial setup via a computer, and will be easily formatted with a user's smartphone via an Eye-Fi's application software. DOCOMO plans to sell Eye-Fi's latest cards at docomo shops starting in April, earlier than in most other countries.
DOCOMO and Eye-Fi also are already discussing additional possibilities for combining their respective technologies for other convenient, innovative personal-cloud services from DOCOMO.
Going forward, DOCOMO will place increasing emphasis on its growing range of personal-cloud services, in addition to continuing to diversify its lineup of smartphones and other mobile devices and developing advanced technologies centered on mobility.
Total image of DOCOMO's New Photo-sharing Service in Collaboration with Eye-Fi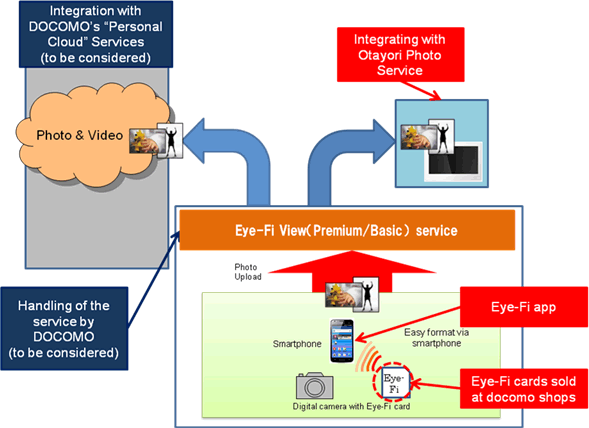 About NTT DOCOMO

NTT DOCOMO is a world-leading integrated-services company centered on mobility. The company serves over 59 million mobile customers in Japan via advanced wireless networks, including a nationwide 3G network and one of the world's first commercial LTE networks. Leveraging its unique capabilities as a mobile operator, DOCOMO is a leading developer of cutting-edge technologies for NFC mobile payments, mobile GPS, mobile TV, intuitive mobile assistance, environmental monitoring, smart grids and much more.
Overseas, the company provides technical and operational expertise to eight mobile operators and other partner companies. NTT DOCOMO is listed on the Tokyo (9437), London (NDCM) and New York (DCM) stock exchanges. Please visit www.docomo.ne.jp/english for more information.
About Eye-Fi

Eye-Fi is dedicated to building products and services that help consumers manage, nurture and share their visual memories. Eye-Fi's patented and patent-pending technology wirelessly and automatically uploads photos and videos from digital imaging devices, including digital cameras and Android and iOS based devices, to online, in-home and retail destinations. Eye-Fi has helped people wirelessly upload more than 400 million photos since being founded in 2005. Eye-Fi has received Popular Science's "Best of CES 2011: Product of the Future" award, TIME's "Top 100 Gadgets of All Time," and CNET's "Best of CES 2010" award in the digital photo and video category - and many more.

Headquartered in Mountain View, Calif., the company's investors include Opus Capital, Shasta Ventures and TransLink Capital.

Eye-Fi products and services are now available in the United States at Wal-Mart, Best Buy, Target, Office Depot and Amazon.com as well as through various distributors in Japan and Europe. Eye-Fi apps are available at the Apple App Store and the Android market.
Otayori Photo Service is a trademark or registered trademark of NTT DOCOMO, INC. in Japan and/or other countries.
Otayori Photo Service only available to subscribers in Japan.
microSD and microSDHC are trademarks of SD Association.
Wi-Fi is either a trademark or registered trademark of Wi-Fi Alliance.
All other trademarks are the property of their respective owners.