TOKYO, JAPAN, February 24, 2012 --- NTT DOCOMO, INC., NEC Corporation, Panasonic Mobile Communications Co., Ltd. and Fujitsu Limited announced today that they have jointly developed the software and hardware intellectual property for a single large-scale integration (LSI) chip that will enable small, energy-efficient modems to support the GSM, W-CDMA, HSPA+ and LTE mobile standards. Performance evaluation of the LSI engineering sample chip was completed previously, and as of today, all testing required to confirm interconnectivity to the mobile networks of major vendors has also been completed.
The development means that modems in future mobile devices will require just one chip, rather than two chips required in many conventional cases, in order to operate on multiple mobile standards. The single chip reduces power consumption by about 20% during both communication and stand-by, as well as decreases the production cost for mobile devices.
All mobile broadband standards supported by the chip meet 3rd Generation Partnership Project (3GPP) specifications. The LTE standard supports FDD (Frequency Division Duplexing) mode adopted by DOCOMO and TDD (Time Division Duplexing) mode expected to be adopted for LTE networks in China and other markets, which will help to further the development of advanced mobile devices by manufacturers worldwide.
The four partners, in addition to other major players in the mobile technology field, working through a joint venture currently being planned, aim to commercialize the chip in Japan and other countries as quickly as possible in response to market demands for smaller and more affordable mobile devices. The group additionally plans to pursue development of a multi-standard chip that is also compliant with the LTE-Advanced next-generation transmission standard.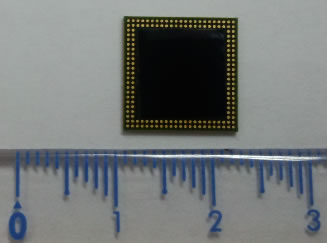 The LSI engineering sample chip, one of the deliverables of this development

About NTT DOCOMO

NTT DOCOMO is a world-leading integrated-services company centered on mobility. The company serves over 59 million mobile customers in Japan via advanced wireless networks, including a nationwide 3G network and one of the world's first commercial LTE networks. Leveraging its unique capabilities as a mobile operator, DOCOMO is a leading developer of cutting-edge technologies for NFC mobile payments, mobile GPS, mobile TV, intuitive mobile assistance, environmental monitoring, smart grids and much more. Overseas, the company provides technical and operational expertise to eight mobile operators and other partner companies. NTT DOCOMO is listed on the Tokyo (9437), London (NDCM) and New York (DCM) stock exchanges. Please visit www.docomo.ne.jp/english for more information.

About NEC

NEC Corporation is a leader in the integration of IT and network technologies that benefit businesses and people around the world. By providing a combination of products and solutions that cross utilize the company's experience and global resources, NEC's advanced technologies meet the complex and ever-changing needs of its customers. NEC brings more than 100 years of expertise in technological innovation to empower people, businesses and society. For more information, visit NEC at http://www.nec.com

About Panasonic Mobile Communications

Panasonic Mobile Communications Co., Ltd. headquartered in Yokohama, Japan, is a Panasonic Group company specialized in the development and manufacture of mobile communications products from mobile handsets to carrier base-station devices and other infrastructure equipment. Since its establishment in 1958, the company has been developing cutting edge technologies including the world's first 3G video handset in 2001. The company is committed to providing added-value solutions to end-users through its mobile communication products. For more information, please visit http://panasonic.net/products/mobile/

About Fujitsu

Fujitsu is the leading Japanese information and communication technology (ICT) company offering a full range of technology products, solutions and services. Over 170,000 Fujitsu people support customers in more than 100 countries. We use our experience and the power of ICT to shape the future of society with our customers. Fujitsu Limited (TSE:6702) reported consolidated revenues of 4.5 trillion yen (US$55 billion) for the fiscal year ended March 31, 2011. For more information, please see http://www.fujitsu.com