TOKYO, JAPAN, September 8, 2011 --- NTT DOCOMO, INC. announced today the unveiling of the first tablets compatible with its extra-high-speed next-generation LTE service, Xi™ (read "Crossy"). The "docomo Tablet GALAXY Tab 10.1 LTE SC-01D" will go on sale in Japan in the beginning of October and the "docomo Tablet ARROWS Tab LTE F-01D" in the middle of October.
Both tablets feature large 10.1-inch displays and are powered by dual core CPUs running on Android™ 3.2. The light, thin and fast docomo Tablet GALAXY Tab 10.1 LTE SC-01D is DOCOMO's LTE-optimized version of the GALAXY Tab 10.1, the latest large-screen tablet in the globally popular GALAXY series. Customized for DOCOMO services such as sp-mode™, docomo market and Area Mail™, the device offers excellent operability and mobility. Its 8.6mm body weighs just 565g and it comes with a high-capacity 7,000 mAh battery.
The docomo Tablet ARROWS Tab LTE F-01D, the first Android-based tablet manufactured by Fujitsu Limited, also boasts a thin, lightweight body, measuring 11.3mm thick and weighing just 597g. Its IPX5/IPX7 waterproof design enables users to enjoy video and one-seg mobile TV even while relaxing in the bathtub*. Highly convenient "Hand Gesture Control" enables operations to be performed with simple hand gestures without touching the device — perfect for checking recipes or performing other tasks while the user's hands are wet or messy.
In conjunction with the launch of these inaugural Xi-compatible tablets, DOCOMO will offer four new broadband applications, including the popular Hulu and Qik Video services, which are specially suited to Xi's high-spec mobile video/TV, communications and online gaming capabilities.
In addition, DOCOMO will partially reorganize its device lineup by establishing a separate series for tablets, called "docomo Tablet," in recognition of the growing number of tablets in the market and the differences in usage and needs compared to smartphones. Going forward, DOCOMO will work closely with content providers to steadily expand the range and attractiveness of docomo Tablet content for enhanced user experiences.
docomo Tablet GALAXY Tab 10.1 LTE SC-01D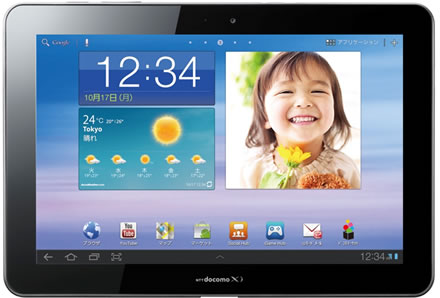 docomo Tablet ARROWS Tab LTE F-01D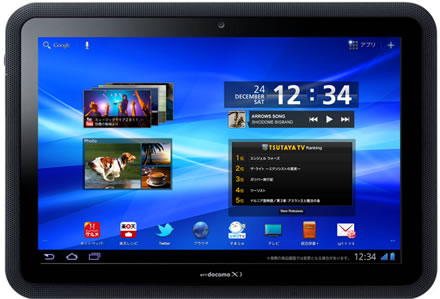 (Attachment 1) Main Specifications of docomo Tablet Models

(Attachment 2) Selected Services and Features Available in docomo Tablet Models

About NTT DOCOMO

NTT DOCOMO is a world-leading mobile operator and growing provider of comprehensive services centered on mobility. The company serves over 58 million customers in Japan via advanced wireless networks, including a nationwide 3G network and one of the world's first commercial LTE networks. Leveraging its unique capabilities as a mobile operator, DOCOMO is a leading developer of cutting-edge technologies for NFC mobile payments, mobile GPS, mobile TV, intuitive mobile assistance, environmental monitoring, smart grids and much more. Overseas, the company provides technical and operational expertise to eight mobile operators and other partner companies. NTT DOCOMO is listed on the Tokyo (9437), London (NDCM) and New York (DCM) stock exchanges. Please visit www.docomo.ne.jp/english for more information.
*Care should be taken to avoid exposing the ARROWS Tab LTE F-01D to substances such as soap, shampoo or bath salts. In the case of accidental exposure, the device should be rinsed promptly with lukewarm tap water.
Xi is trademark or registered trademark of NTT DOCOMO, INC. in Japan and/or other countries.
Xi is only available to subscribers in Japan.
sp-mode, docomo market and area mail are trademarks or registered trademarks of NTT DOCMO, INC. in Japan.
Android is a trademark of Google Inc.
ARROWS is a trademark or registered trademark of Fujitsu Toshiba Mobile Communications Limited.
Hulu is a trademark of Hulu, LLC.
Qik is a trademark of Skype lreland Technologies Holdings Limited.
G-CLOUD is a trademark or registered trademark of NHN Japan Corporation.
All listed names of products and services are registered or unregistered trademarks of their respective owners.