TOKYO, JAPAN, December 10, 2007 --- NTT DoCoMo, Inc. and its eight regional subsidiaries announced today that the FOMA™ F801i, a new child-friendly 3G mobile phone loaded with special features for the safety and convenience of children, will go on sale December 20.
Building on the popular FOMA SA800i model that DoCoMo released in March 2006, the F801i offers many new or improved child-friendly features (see attachments) for security, theft/loss prevention, ease of use and more.
In an emergency, the child can quickly switch on the phone's 100-decibel alarm, which produces two types of noise alternately. When the alarm is activated, the phone also emits a bright light (high-intensity LED) that is easily visible to people in the surrounding area.
The phone can be set to automatically notify loved ones when the alarm is activated, and provide the handset's current location as well. Computer-generated phone calls can be placed to up to three registered numbers and messages can be sent to registered individuals who subscribe to the i-mode™ location service called imadoco search™. In addition, the child can discreetly message their location to a registered imadoco search user by simply pushing a button on the side of the phone.
If the phone's power is switched off, a presetting can enable the handset to automatically turn back on (in as little as five minutes) and message the incident and the phone's location to a registered DoCoMo phone.
An amulet-style remote controller worn by the child can be used to make a misplaced phone beep if within a range of about 10 meters (may vary with usage environment). If the user moves even farther from the handset, the phone can automatically lock (requires presetting). If the handset remains out of the amulet's range for more than five minutes, a message can be sent automatically to a registered DoCoMo phone.
The F801i is ergonomically designed for easy use by small hands, and its waterproof body can withstand accidental immersion (up to 30 minutes at one-meter depth) or concentrated water sprays.
The phone's soft-rectangle shape and round speaker grille enclosed by a ring-shape LED were conceived by renowned designer Kashiwa Sato to symbolize safety, peace of mind, creativity and the future.
DoCoMo, as part of its corporate social responsibility program, provides education on the proper use of mobile phones by children. The Mobile Phone Safety Program involves workshops for students from elementary through high school, as well as for parents. DoCoMo has conducted more than 3,600 workshops for some 540,000 people throughout Japan since 2004. This program, along with services for site-access restriction, location information, etc., form a broad framework within which DoCoMo works to provide parents and their children with a safe and secure environment for using mobile phones.
Attachment1

Attachment2

FOMA F801i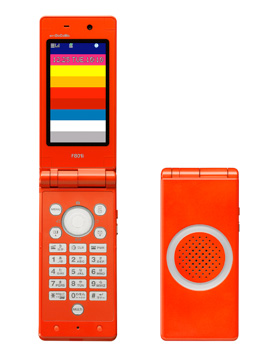 Amulet-style remote controller with complimentary armband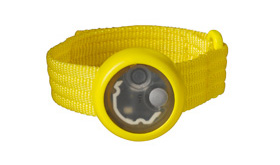 About NTT DoCoMo

NTT DoCoMo is the world's leading mobile communications company. DoCoMo serves about 53 million customers, including 40 million people subscribing to FOMA, launched as the world's first 3G mobile service based on W-CDMA in 2001. DoCoMo also offers a wide variety of leading-edge mobile multimedia services, including i-mode, the world's most popular mobile e-mail/Internet service, used by more than 47 million people. With the addition of credit-card and other e-wallet functions, DoCoMo mobile phones have become highly versatile tools for daily life. NTT DoCoMo is listed on the Tokyo (9437), London (NDCM) and New York (DCM) stock exchanges. For more information, visit www.docomo.ne.jp/english.
i-mode, FOMA, imadoco search, imadoco kantan search, i-appli, Kisekae Tool, i-motion, Deco-mail and Chaku-motion are trademarks or registered trademarks of NTT DoCoMo, Inc. in Japan and other countries.
NTT DoCoMo's FOMA service is only available to subscribers in Japan.
Chaku-Uta is a registered trademark of Sony Music Entertainment Corporation.