TOKYO, JAPAN -- July 17, 2007 --- NTT DoCoMo, Inc. announced today that it will begin marketing Research In Motion's BlackBerry® 8707h™ with Japanese-language support* on July 23.
Customers using the BlackBerry 8707h will benefit from new features — Japanese input for e-mails (including text prediction) and other personal information management (PIM) applications and a Japanese screen menu — that enhance already existing capabilities such as reading Japanese e-mails and browsing Japanese websites. These developments accommodate the needs of customers intending to deploy the smartphone in a Japanese-language environment.
The launch of Japanese-language support will also include localization of BlackBerry Enterprise Server™ and BlackBerry Desktop Manager. BlackBerry Enterprise Server software tightly integrates with IBM®Lotus®Domino® and Microsoft® Exchange, and enables secure, push-based wireless e-mail and access to other corporate data. The BlackBerry Desktop Manager allows data synchronization between a BlackBerry smartphone and a personal computer.
The BlackBerry 8707h device and service will be distributed exclusively through DoCoMo's corporate business division.
DoCoMo will exhibit the BlackBerry 8707h at its booth at Wireless Japan 2007, which takes place at Tokyo Big Sight from July 18 to 20.
*Product details can be found in the attached appendix.
Appendix

BlackBerry 8707h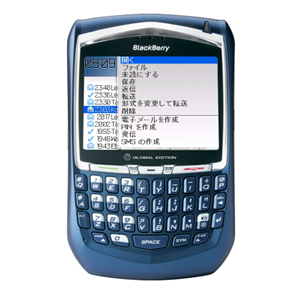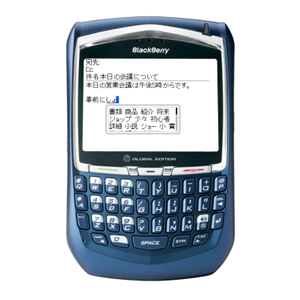 About NTT DoCoMo

NTT DoCoMo is the world's leading mobile communications company. DoCoMo serves more than 52 million customers, including 37 million people subscribing to FOMA™, launched as the world's first 3G mobile service based on W-CDMA in 2001. DoCoMo also offers a wide variety of leading-edge mobile multimedia services, including i-mode™, the world's most popular mobile e-mail/Internet service, used by more than 47 million people. With the addition of credit-card and other e-wallet functions, DoCoMo mobile phones have become highly versatile tools for daily life. NTT DoCoMo is listed on the Tokyo (9437), London (NDCM) and New York (DCM) stock exchanges. For more information, visit www.docomo.ne.jp/english.
i-mode and FOMA are trademarks or registered trademarks of NTT DoCoMo, Inc. in Japan and other countries.
NTT DoCoMo's FOMA service is only available to subscribers in Japan.
Microsoft is a registered trademark of Microsoft Corporation.
IBM, Lotus and IBM Lotus Domino are registered trademarks of IBM Corporation.
The BlackBerry and RIM families of related marks, images and symbols are the exclusive properties and trademarks of Research In Motion Limited. RIM, Research In Motion and BlackBerry are registered with the U.S. Patent and Trademark Office and may be pending or registered in other countries. RIM assumes no liability and makes no representation, warranty or guarantee in relation to third party products or services.