TOKYO, JAPAN, July 13, 2007 --- NTT DoCoMo, Inc. announced today that it will develop a USB-interfacing High Speed Downlink Packet Access (HSDPA) data terminal for PCs together with leading Korean operator KT Freetel Co., Ltd as part of their joint purchasing tie-up.
DoCoMo and KTF — mobile operators known for their cutting-edge technology — will conduct the development project through their Business and Technology Cooperation Committee, a body dedicated to promotion of joint purchasing established when the partners signed a strategic alliance in December 2005.
The terminal will be marketed in Japan as FOMA™ A2502 HIGH-SPEED, and will be available to users seeking speedy mobile packet transmissions via their PCs as early as autumn 2007. Downlink speeds of up to 3.6Mbps will be available in Japan in HSDPA service areas ("FOMA HIGH-SPEED Areas"). International roaming on 3G will also be possible.
Main Specifications
Height x Width x Thickness
80 x 37 x 12mm
Weight
Approx. 45 grams
Transmission speeds
Packet communication
FOMA HIGH-SPEED Area
Uplinks at max. 384Kps
Downlinks at max. 3.6Mbps
FOMA service area
Uplinks and downlinks at max. 384Kbps
Compliant operating systems
(Japanese versions only)
Windows Vista™
Windows® XP Professional
Windows XP Home Edition
Windows 2000 Professional
Interface
USB
Specifications are subject to change
A2502 HIGH-SPEED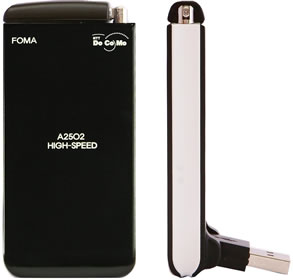 About NTT DoCoMo

NTT DoCoMo is the world's leading mobile communications company. DoCoMo serves more than 52 million customers, including 37 million people subscribing to FOMA™, launched as the world's first 3G mobile service based on W-CDMA in 2001. DoCoMo also offers a wide variety of leading-edge mobile multimedia services, including i-mode™, the world's most popular mobile e-mail/Internet service, used by more than 47 million people. With the addition of credit-card and other e-wallet functions, DoCoMo mobile phones have become highly versatile tools for daily life. NTT DoCoMo is listed on the Tokyo (9437), London (NDCM) and New York (DCM) stock exchanges. For more information, visit www.docomo.ne.jp/english.
i-mode and FOMA are trademarks or registered trademarks of NTT DoCoMo, Inc. in Japan and other countries.
Windows and Windows Vista are trademarks or registered trademarks of Microsoft Corporation in the U.S. and other countries.