TOKYO, JAPAN, May 28, 2007 --- NTT DoCoMo, Inc. and its eight regional subsidiaries today unveiled the third-generation (3G) FOMA™ SIMPURE™ L2 handset for users who prefer an easy-to-use model without highly sophisticated functions. The model was designed in collaboration with industrial/interior designer Gwenael Nicolas and handset manufacturer LG Electronics, Inc.
DoCoMo plans to release the new handset by the end of July.
As the latest model in the SIMPURE ("simple" and "pure") series, the SIMPURE L2 is a stylish and compact phone with convenient basic features. It can be used with DoCoMo's WORLD WING™ roaming service and works on W-CDMA, GSM and GPRS networks.
Designed chiefly by Tokyo-based French designer Gwenael Nicolas, whose works include UNIQLO's "Black Shop" flagship retail store and Nintendo's "Game Boy Advance" handheld videogame console, the SIMPURE L2 features a unique "curve & square" design that fits comfortably into the user's hand. The 17.6 mm slide-type handset features a stylish keypad with a layout for easy dialing.
The SIMPURE L2 will be displayed at the "Touch & Love DESIGN" exhibition jointly organized by LG Electronics Japan and the non-profit Design Association's "Tokyo Designer's Week" in the Galleria Atrium (B1 fl.) of Tokyo Midtown in Roppongi, Tokyo from July 3 to 8.
Please refer to the attachment for additional details about the handset.
Attachment

SIMPURE L2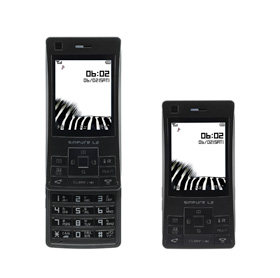 About NTT DoCoMo

NTT DoCoMo is the world's leading mobile communications company. DoCoMo serves more than 52 million customers, including 36 million people subscribing to FOMA™, launched as the world's first 3G mobile service based on W-CDMA in 2001. DoCoMo also offers a wide variety of leading-edge mobile multimedia services, including i-mode™, the world's most popular mobile e-mail/Internet service, used by more than 47 million people. With the addition of credit-card and other e-wallet functions, DoCoMo mobile phones have become highly versatile tools for daily life. NTT DoCoMo is listed on the Tokyo (9437), London (NDCM) and New York (DCM) stock exchanges. For more, visit www.docomo.ne.jp/english.
i-mode, FOMA, SIMPURE and WORLD WING are trademarks or registered trademarks of NTT DoCoMo, Inc. in Japan and other countries.
NTT DoCoMo's FOMA service is only available to subscribers in Japan.