TOKYO, JAPAN, April 23, 2007 --- NTT DoCoMo, Inc. and its eight regional subsidiaries today introduced the premium DCMX™ GOLD mobile credit card. DCMX GOLD is the latest offering from DoCoMo's mobile credit card service, joining DCMX mini and the standard DCMX, which was announced in April 2006.
Like the DCMX mini and standard DCMX cards, DCMX GOLD is compatible with iD™, DoCoMo's branded platform for mobile credit cards. The variety of sophisticated benefits offered to DCMX GOLD members makes it a compelling new option.
Rewards and benefits accruing to DCMX GOLD members include an exclusive lineup of gifts redeemable with the DoCoMo Points; preferred treatment under the Premier Club program; and a compensation plan covering handset damage or loss as well as international and domestic traveler's insurance. DoCoMo, as a mobile phone operator, offers unique advantages to card members, such as priority service at selected DoCoMo Shops, and a DCMX GOLD desk where members only can pre-reserve the latest handsets for free delivery to their homes or inquire about general information related to mobile phone services and products.
Users of "Osaifu-Keitai" mobile wallet-capable handsets are eligible to apply for DCMX GOLD membership. Subscription to i-mode is required.
The annual fee for the card is 15,759 yen (incl. tax).
Members will be issued a Visa or MasterCard magnetic card for use when making purchases overseas or at shops in Japan that do not have iD readers/writers.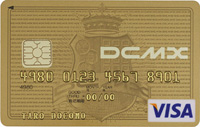 About NTT DoCoMo

NTT DoCoMo is the world's leading mobile communications company. DoCoMo serves more than 52 million customers, including 35 million people subscribing to FOMA™, launched as the world's first 3G mobile service based on W-CDMA in 2001. DoCoMo also offers a wide variety of leading-edge mobile multimedia services, including i-mode™, the world's most popular mobile e-mail/Internet service, used by more than 47 million people. With the addition of credit-card and other e-wallet functions, DoCoMo mobile phones have become highly versatile tools for daily life. NTT DoCoMo is listed on the Tokyo (9437), London (NDCM) and New York (DCM) stock exchanges. For more information, visit www.docomo.ne.jp/english.
i-mode, FOMA, DCMX, and iD are trademarks or registered trademarks of NTT DoCoMo, Inc. in Japan and other countries.
NTT DoCoMo's FOMA service is only available to subscribers in Japan.
"Osaifu-Keitai" refers to mobile phones equipped with a contactless IC card for useful online functions/services such as electronic money, credit card payments, electronic ticketing, memberships, and more.