TOKYO, JAPAN, April 20, 2007 --- NTT DoCoMo, Inc. and its eight regional subsidiaries announced today that the company will join the (PRODUCT) RED™ initiative through sales in Japan of M702iS(RED) handset developed by Motorola. A percentage of the profits from sales will be donated to the Global Fund to fight AIDS.
Motorola will donate approximately 1,000 yen for each M702iS(RED) handset purchased and DoCoMo will donate 1% of each user's monthly bill to the Global Fund. The monthly statement that handset users receive from DoCoMo will remain unchanged and donations under this promotion will be made through the end of March 2008.
The M702iS(RED) handset will be available at all DoCoMo sales channels from April 27, 2007.
(PRODUCT) RED is a business model whereby major international brands make sustainable donations to the Global Fund through sales of their (PRODUCT) RED items. It was established in January 2006 by U2 lead vocalist Bono and Bobby Shriver of Debt AIDS Trade in Africa (DATA), an international non-governmental organization raising money to help eliminate HIV/AIDS in Africa.
The handset's main specifications, which are same as the standard M702iS model, are provided in the attachment.
Attachment

M702iS(RED)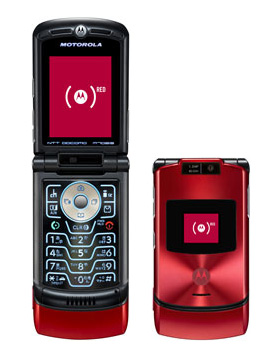 About NTT DoCoMo

NTT DoCoMo is the world's leading mobile communications company. DoCoMo serves more than 52 million customers, including 34 million people subscribing to FOMA™, launched as the world's first 3G mobile service based on W-CDMA in 2001. DoCoMo also offers a wide variety of leading-edge mobile multimedia services, including i-mode™, the world's most popular mobile e-mail/Internet service, used by more than 47 million people. With the addition of credit-card and other e-wallet functions, DoCoMo mobile phones have become highly versatile tools for daily life. NTT DoCoMo is listed on the Tokyo (9437), London (NDCM) and New York (DCM) stock exchanges. For more, visit www.docomo.ne.jp/english.
i-mode and FOMA are trademarks or registered trademarks of NTT DoCoMo, Inc. in Japan and other countries.
NTT DoCoMo's FOMA service is only available to subscribers in Japan.
(PRODUCT) RED is a trademark of The Persuaders, LLC and is licensed to (RED) partners.