TOKYO, JAPAN, March 29, 2007 --- NTT DoCoMo, Inc. announced today that the company will begin marketing, for a limited time, an exclusive, special-edition handset, the M702iS DOLCE & GABBANA, developed jointly by Dolce & Gabbana, Motorola and DoCoMo, via DoCoMo's Internet online sales channels.
The handset, which costs 75,000 yen (including tax), will be available for purchase via PC and i-mode™ Japanese-language portals from 8:30 am on April 20, 2007. The special-edition handset will remain on sale until May 31 at 10:30 pm, or while supplies last. This promotion is available to customers only in Japan.
Dolce & Gabbana shops in Japan began accepting orders for the model on March 1.
The handset is finished in elegant Dolce & Gabbana Gold and is installed with an original standby screen and a screensaver featuring the Dolce & Gabbana logo. Also, the Dolce & Gabbana logo on the sub display glows during calls, and four original ring tones were selected by Domenico Dolce and Stefano Gabbana for the model. The phone's lanyard, cleaning cloth and eel skin carrying case also bear Dolce & Gabbana logos.
The handset's main specifications, which are same as the regular M702iS model, are provided in the attachment.
Attachment

M702iS DOLCE & GABBANA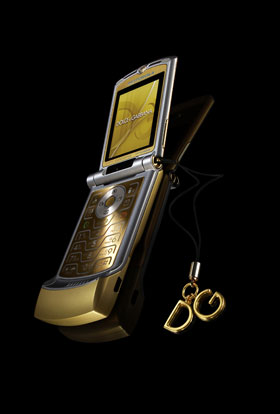 About NTT DoCoMo

NTT DoCoMo is the world's leading mobile communications company. DoCoMo serves more than 52 million customers, including 34 million people subscribing to FOMA™, launched as the world's first 3G mobile service based on W-CDMA in 2001. DoCoMo also offers a wide variety of leading-edge mobile multimedia services, including i-mode™, the world's most popular mobile e-mail/Internet service, used by more than 47 million people. With the addition of credit-card and other e-wallet functions, DoCoMo mobile phones have become highly versatile tools for daily life. NTT DoCoMo is listed on the Tokyo (9437), London (NDCM) and New York (DCM) stock exchanges. For more, visit www.docomo.ne.jp/english.
i-mode and FOMA are trademarks or registered trademarks of NTT DoCoMo, Inc. in Japan and other countries.
NTT DoCoMo's FOMA service is only available to subscribers in Japan.