TOKYO, JAPAN, March 6, 2007 --- NTT DoCoMo, Inc. and its eight regional subsidiaries unveiled today Raku-Raku PHONE Basic, the newest handset in the Raku-Raku PHONE series for people interested primarily in user-friendly handsets equipped with basic functions.
The model boasts an attractive design created by Kenya Hara, renowned graphic designer and art director of popular brandless goods manufacturer Muji, in collaboration with handset maker Fujitsu and DoCoMo.
Special features include "Slow Voice", which improves comprehensibility through embedded software that slows the other person's voice speed, and "Clear Voice" noise-detection, which automatically adjusts voice and ringtone volume according to surrounding noise level. Enhanced "Read Aloud" audibly announces the name of the caller or e-mail sender and provides audio readouts of i-mode™ pages, while "Simple Mail Generation" offers preset messages for quick replies to e-mails.
The Raku-Raku PHONE Basic is compatible with i-channel™, DoCoMo's push-based service for automatically delivering news and other information as telop text on standby screens, and the text can be displayed in extra-large letters for easy reading. The "Raku-Raku iMenu" within the iMenu™ site, created specifically for the Raku-Raku PHONE family, is an easy-to-view menu that aids navigation. In addition, the handset functions as a pedometer, can measure the distance the user has walked and also calculates calorie consumption.
DoCoMo plans to market the new handset from April.
The handset's main specifications are provided in the attachment.
Attachment

Raku-Raku PHONE Basic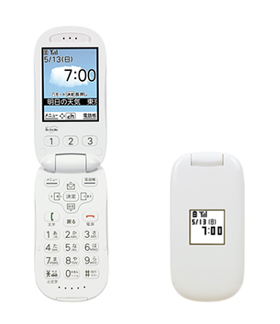 About NTT DoCoMo

NTT DoCoMo is the world's leading mobile communications company. DoCoMo serves more than 52 million customers, including 33 million people subscribing to FOMA™, launched as the world's first 3G mobile service based on W-CDMA in 2001. DoCoMo also offers a wide variety of leading-edge mobile multimedia services, including i-mode™, the world's most popular mobile e-mail/Internet service, used by more than 47 million people. With the addition of credit-card and other e-wallet functions, DoCoMo mobile phones have become highly versatile tools for daily life. NTT DoCoMo is listed on the Tokyo (9437), London (NDCM) and New York (DCM) stock exchanges. For more, visit www.docomo.ne.jp/english.
i-mode, FOMA, i-channel and iMenu are trademarks or registered trademarks of NTT DoCoMo, Inc. in Japan and other countries.
NTT DoCoMo's FOMA service is only available to subscribers in Japan.
i-channel uses the FlashCast™ technology of Adobe Systems Incorporated.
Flash and FlashCast are registered trademarks or trademarks of Adobe Systems Incorporated in the U.S. and other countries.