TOKYO, February 8, 2007 NTT DoCoMo, Inc., Renesas Technology Corp., Fujitsu Limited, Mitsubishi Electric Corporation, Sharp Corporation, and Sony Ericsson Mobile Communications, today announced that they plan to jointly develop a next-generation mobile phone platform1 for dual-mode handsets supporting HSDPA2/W-CDMA (3G) and GSM/GPRS/EDGE (2G). Development of the platform is targeted to complete during Q2, FY2008 (July-September).
The six companies agreed to the joint development project in an effort to provide a platform with advanced functionality for 3G mobile phones. The new platform will be based on the SH-Mobile G3, a single-chip system LSI which implements a baseband processor3 supporting HSDPA cat. 82/W-CDMA and GSM/GPRS/EDGE communications and an application processor4 with high-end multimedia functions, together with a reference design integrating audio, power supply, and RF front-end modules. The platform will also include common software for basic functions, including a sophisticated operating system such as Symbian, device drivers, middleware, and communication software.
NTT DoCoMo and Renesas have already jointly developed the SH-Mobile G1, a first-generation single-chip LSI for dual-mode handsets supporting W-CDMA and GSM/GPRS. The SH-Mobile G1 is now in mass production and handsets built around it first appeared on the market in the fall of 2006. The second-generation successor, the SH-Mobile G2, and a mobile phone platform integrating core software are currently under development by NTT DoCoMo, Renesas, Fujitsu, Mitsubishi Electric, and Sharp. (Handsets employing the G2 are scheduled to appear in the fall of 2007.)
By implementing the platform as a base system, mobile phone manufacturers Fujitsu, Mitsubishi Electric, Sharp, and Sony Ericsson can eliminate the need to develop common handset functions. This will significantly reduce development time and costs, allowing the manufacturers to invest more time and resources in developing distinctive handset features and expanding their product portfolio.
Renesas plans to provide the platform to the worldwide W-CDMA market, in addition to customers in Japan, aiming to further reduce costs.
Ikuya Kawasaki, deputy general manager of system solutions business unit 2 at Renesas Technology, remarks as follows: "I am extremely pleased that six companies will be jointly developing a mobile phone platform with the SH-Mobile G3 as its core. We look forward to rolling out this platform in the W-CDMA market worldwide."
Haruhiko Hisa, president of Symbian Japan, which developed one of the standard operating systems, comments: "Symbian welcomes a mobile phone platform with the SH-Mobile G3 as its core and its potential to enable development of highly functional and low-cost 3G mobile phones, while shortening development times."
Notes:
1.
Mobile phone platform: A base system needed for mobile phones that integrates hardware, such as a baseband processor, and software.
2.
HSDPA: High Speed Downlink Packet Access. An enhanced and high-speed version of the 3G W-CDMA data transmission standard. The top data transmission speed of the current implementation of FOMA™ is 384kbps. When the HSDPA cat. 8 standard is introduced, this will support transmission speeds of up to 7.2Mbps.
3.
Baseband processor: A device that handles communication functions within the mobile phone.
4.
Application processor: An LSI that processes multimedia applications such as emails with still pictures and movies, audio and video playback, and video telephony.
| | |
| --- | --- |
| * | "Symbian", "Symbian OS" and other associated Symbian marks are all trademarks of Symbian Software Ltd. |
| * | The names of products, companies, and brands mentioned in this document are the trademarks or registeredtrademarks of their respective owners. |
A block diagram for the mobile phone platform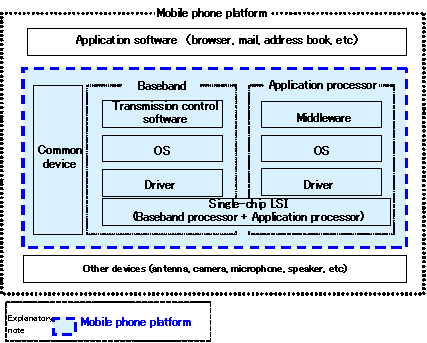 About NTT DoCoMo, Inc.

NTT DoCoMo is the world's leading mobile communications company. DoCoMo serves more than 52 million customers, including 32 million people subscribing to FOMA™, launched as the world's first 3G mobile service based on W-CDMA in 2001. DoCoMo also offers a wide variety of leading-edge mobile multimedia services, including i-mode™, the world's most popular mobile e-mail/Internet service, used by more than 47 million people. With the addition of credit-card and other e-wallet functions, DoCoMo mobile phones have become highly versatile tools for daily life. NTT DoCoMo is listed on the Tokyo (9437), London (NDCM) and New York (DCM) stock exchanges. For more, visit www.docomo.ne.jp/english.
i-mode and FOMA are trademarks or registered trademarks of NTT DoCoMo, Inc. in Japan and other countries.
NTT DoCoMo's FOMA service is only available to subscribers in Japan.
About Renesas Technology Corp.

Renesas Technology Corp. is one of the world's leading semiconductor system solutions providers for mobile, automotive and PC/AV (Audio Visual) markets and the world's No.1 supplier of microcontrollers. It is also a leading provider of LCD Driver ICs, Smart Card microcontrollers, RF-ICs, High Power Amplifiers, Mixed Signal ICs, System-on-Chip (SoC), System-in-Package (SiP) and more. Established in 2003 as a joint venture between Hitachi, Ltd. (TSE:6501, NYSE:HIT) and Mitsubishi Electric Corporation (TSE:6503), Renesas Technology achieved consolidated revenue of 906 billion JPY in FY2005 (end of March 2006). Renesas Technology is based in Tokyo, Japan and has a global network of manufacturing, design and sales operations in around 20 countries with about 26,200 employees worldwide. For further information, please visit http://www.renesas.com.
About Fujitsu

Fujitsu is a leading provider of customer-focused IT and communications solutions for the global marketplace. Pace-setting device technologies, highly reliable computing and communications products, and a worldwide corps of systems and services experts uniquely position Fujitsu to deliver comprehensive solutions that open up infinite possibilities for its customers' success. Headquartered in Tokyo, Fujitsu Limited (TSE:6702) reported consolidated revenues of about 4.8 trillion yen (US$40.6 billion) for the fiscal year ended March 31, 2006. For more information, please see www.fujitsu.com.
About Mitsubishi Electric Corporation

With over 80 years of experience in providing reliable, high-quality products to both corporate clients and general consumers all over the world, Mitsubishi Electric Corporation (TSE:6503) is a recognized world leader in the manufacture, marketing and sales of electrical and electronic equipment used in information processing and communications, space development and satellite communications, consumer electronics, industrial technology, energy, transportation and building equipment. The company recorded consolidated group sales of 3,604 billion yen (US$ 30.8 billion*) in the fiscal year ended March 31, 2006. For more information visit https://www.mitsubishielectric.com/en/.
*At an exchange rate of 117 yen to the US dollar, the rate given by the Tokyo Foreign Exchange Market on March 31, 2006.
About Sharp Corporation

Sharp Corporation is a worldwide developer of innovative products and core technologies that play a key role in shaping the future of electronics. As a leader in liquid crystal displays (LCDs) and digital technologies, Sharp offers one of the broadest and most advanced lines of consumer electronics, information products and electronic components, while also creating new network businesses.
Sharp Corporation employs about 55,300 people in the world (as of December 31, 2006) and recorded consolidated annual sales of 2,797,109 million yen for the fiscal year ended March 31, 2006. For more information, please visit Sharp's Web site at http://sharp-world.com/index.html.
About Sony Ericsson Mobile Communications

Sony Ericsson Mobile Communications Japan, Inc., a subsidiary of Sony Ericsson Mobile Communications, serves the Japanese market with innovative and feature-rich mobile phones. Sony Ericsson celebrated the 5th anniversary of the start of the company on 1st October, 2006. In January 2005 Sony Ericsson became the global title sponsor of the Women's Tennis Association, and works with the Association to promote the Sony Ericsson WTA Tour in over 80 cities during the year, including Tokyo.