Xperia 1 II SO-51A
Features of Xperia 1 II SO-51A
Experience entertainment in the 5G era.

This is the first Xperia smartphone that supports next-generation, high-speed 5G communications.
The experience of transmitting high-quality large files, such as 4K high-definition video and high-resolution audio, is more pleasant than ever before.
Xperia 1 II introduces you to a new world of entertainment in the 5G era.
Xperia cameras maintain focus on the eyes.

The ZEISS Lens is used for the triple-lens camera to faithfully reproduce the finest details of a subject, such as color tones, color reproduction, transparency, three-dimensionality, and bokeh. The T* (T-star) coating allows for bright, high-contrast photos even in dim lighting conditions or during twilight hours.
Eye AF, which was developed from Sony's digital single-lens camera αTM technology, focuses on the eyes to capture the facial expressions of a subject without blur.
The standard camera also features 1/1.7-inch large sensors, which take in a large amount of light to prevent blown out highlights and blocked up shadows as much as possible for clear and detailed photos.
You'll never miss a moment! Incredibly fast shooting capabilities.
A display that reproduces the creator's intentions.

The approx. 6.5-inch 4K*5 HDR organic EL display supports the HDR standard for a wide range of bright and dark colors, rich BT.2020 color gamut, and 10-bit signals that can express one billion colors. The creator mode, which reproduces the intentions of the video creator, provides a theater-like viewing experience on the 21:9 Cinema WideTM display.
The newly introduced motion blur reduction technology makes video viewing smoother.
Operate two apps in multiple windows.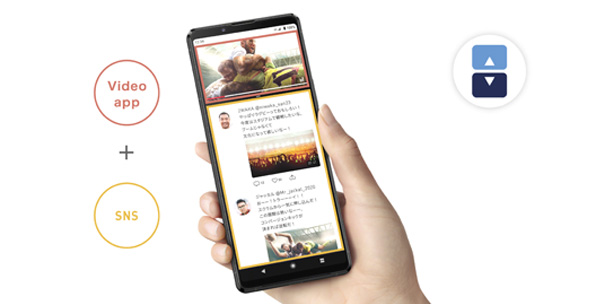 The multi-window*6, which leverages the device's 21:9 vertically long display, has been transformed. Operability has been improved with application switching more intuitive than ever.
You can use social media while watching a video, or send or receive a message while checking a map app using a high-speed 5G network. Try combining apps for infinite possibilities.
Choose Xperia for state-of-the-art audio quality.

This model can play audio in high resolution with approximately 3 to 6 times the information volume as a music CD. High-resolution wireless audio transmission with minimal sound degradation allows you to enjoy high-quality audio wirelessly.
The device also features DSEE Ultimate, which upscales compressed audio data to high-resolution quality. This covers sounds even in the lower and upper ranges, so you can hear delicate tones through the skin when listening to music that features many layers, such as classical music.
The device also supports 360 Reality Audio*7. This feature offers a three-dimensional surround sound experience in Xperia. You'll feel as if you were in the same room as the performer.
A comfortable and long-lasting device fully equipped with basic functions.

This model comes with a 4000 mAh battery that can be charged wirelessly; Battery Care, which reduces strain; and STAMINA® mode*8, which extends battery life longer for reliable continuous use.
A memory of 8 GB RAM and 128 GB ROM also ensures that the device performs smoothly.
A new standard for mobile e-sports players.

The 21:9 wide display offers a wider field of view, allowing you to feel immersed in the world of a game.
5G connectivity and improved touch response enhance operability in games where delicate button touches and a faster response speed are required.
Xperia devices with a 21:9 wide display have been selected as the official device in e-sports events and have been used by many mobile e-sports players.
The 10th anniversary of Xperia.

Through the integration of communications that connect entertainment and people all over the world, a new world of infinite possibilities is making its way around the planet.
It has been 10 years since SO-01B was introduced domestically on April 1, 2010.
In 2020, as Xperia marks its 10th anniversary thanks to the support of our many users, we are introducing support for next-generation, high-speed 5G communications. Experience the entertainment of a new age.
Specifications and Services/Functions
Specifications
Specifications
Approx. 6.5 inches
4K *9/Organic EL X1TM for mobile

4000 mAh *10
(Internal Battery)

Rear camera
Approx. 12.2 megapixels/
Approx. 12.2 megapixels/
Approx. 12.2 megapixels/ToF Camera

Front camera
Approx. 8 megapixels

Approx. 166 x 72 x 7.9 mm *13
Main services/functions
Compatible Not compatible
1644 pixels wide x 3840 pixels high (based on the SID standard).

This is the standard value of the technical specification.

Not all of the capacity is available for use.

Only available in some areas. The data rate is the maximum value of the technical specification when sending and receiving and does not represent the actual data rate.

Communications are provided on a best-effort basis and actual data rates may differ depending on the communications environment and network congestion.

Please see

Search Service Area

for details on the compatible service areas.

The size depends on the standards of the manufacturer. These measurements may not be true for the thickest part of the device.

IPX5/8 waterproof performance. Please make sure that the rear cover is firmly closed before use. It is recommended to replace parts once every two years, regardless of whether or not there is an abnormality, to ensure the waterproof performance is maintained (charges will apply).
IPX5 means that the mobile phone has the function as a communications device after 12.5 liter of water per minute is sprayed at the phone from all directions at a distance of approximately 3 m for at least three minutes using a water spray nozzle with an internal diameter of 6.3 mm.
IPX8 means that the mobile phone has the function as a communications device after it is submerged under tap water at room temperature at a depth of 1.5 m, then left for approximately 30 minutes, and then taken out of the water.
IP6X dustproof performance. IP6X refers to a protection level and means that the phone has the function to prevent dust particles from entering the inside of the phone after it is placed in equipment with an atmosphere containing dust particles with a diameter of 75 µm or less and agitated for eight hours and then taken out of the equipment.

Osaifu-Keitai Lock can be linked with Sleep Mode. For details, refer to

About Security

(in Japanese only).

A TV antenna cable SO02 (included) is required.

A signal may not be received due to noise depending on the usage environment.

For details on the service, please visit

the website of the Association for Promotion of Advanced Broadcasting Services

(in Japanese only)

.

For NHK subscription fees, please contact NHK.

High-resolution headset and speakers (sold separately) are required.

A wireless charger that meets Qi standards (sold separately) is required.
In smartphones. As of February 23, 2020. Surveyed by Sony Mobile Communications, Inc..

AF: Autofocus, AE: Automatic exposure control.

Standard lens only. This function is available in Photography Pro (support will be provided in a software update). Drive mode must be set to Hi. Effective when the shutter speed is 1/100 seconds or higher. The rate may differ depending on the shooting environment.

This function is available in Photography Pro (support will be provided in a software update).

1644 pixels wide x 3840 pixels high (based on the SID standard).

The multi-window feature must be supported by the applications you want to use.

360 Reality Audio only applies to compatible tracks.

Performance and some functions are restricted. The degree of restrictions varies depending on the power-saving level.
The price is open. For more information, please contact a docomo Shop or other retailer.

Please check availability with a docomo Shop or other retailer beforehand.

Product and screen images are for illustrative purposes only, and may slightly differ from the actual products.

The battery cannot be removed. The smartphone needs to be sent to the repair counter for battery replacement.

Xperia, α, X1, DSEE Ultimate, STAMINA are either trademarks or registered trademarks of Sony Mobile Communications, Inc..

ZEISS is a registered trademark of Carl Zeiss AG, and used under license by Carl Zeiss Vision International GmbH.