AQUOS Keitai SH-02L
Features of AQUOS Keitai SH-02L
Your calls are easy to hear, your screen is easy to see, and your keyboard is easy to operate.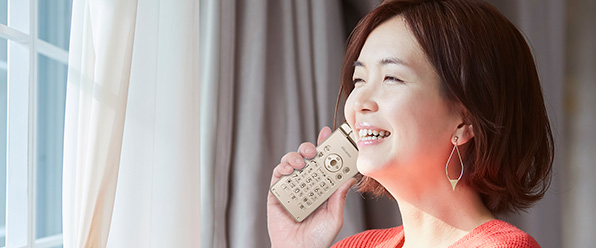 With a 15% increase in surface area*1, its newly equipped Deka Receiver (Big Receiver) makes it much easier to hear. Plus, you can hear your own voice through the receiver with the Smooth Talk feature, and with enhanced VoLTE technology*2, the sound will be clearer, allowing smooth conversations even in busy places.
Reliable capabilities that will be with you for a long time.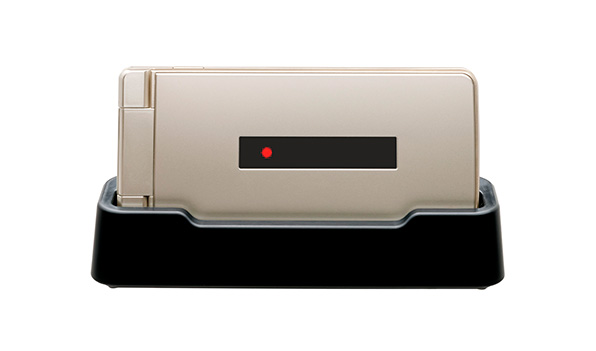 With Intelligent Charge, charging your phone is easy on your battery, so your battery does not deteriorate easily after long-term use. A desktop stand is included, allowing you to charge your phone by just placing it on your desk.
Full capabilities that are useful in both your private and business life.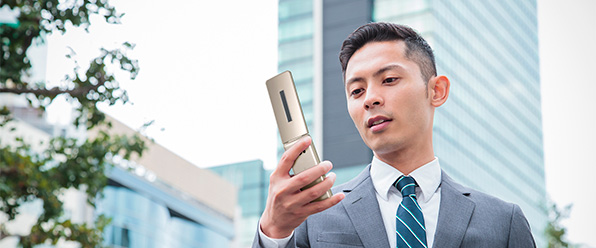 Whether you're at home or at a Wi-Fi® Spot, connect to the Internet smoothly using Wi-Fi. The device also supports tethering, which allows other devices such as your PC to connect to the Internet. You can check your computer email, so you can keep up with your business emails, too.
Specifications and Services/Functions
Main services/functions
★Compatible★Not compatible
IPX5/8 waterproof performance. Please make sure that the rear cover is firmly closed before use. It is recommended to replace parts once every two years, regardless of whether or not there is an abnormality, to ensure the waterproof performance is maintained (charges will apply).
IPX5 means that the mobile phone has the function as a communications device after 12.5 liter of water per minute is sprayed at the phone from all directions at a distance of approximately 3 m for at least three minutes using a water spray nozzle with an internal diameter of 6.3 mm.
IPX8 means that the mobile phone has the function as a communications device after it is submerged under tap water at room temperature at a depth of 1.5 m, then left for approximately 30 minutes, and then taken out of the water.
IP5X dustproof performance. IP5X refers to a protection level and means that the phone has the function as a communications device and safety is maintained after it is placed in equipment with an atmosphere containing dust particles with a diameter of 75 µm or less and agitated for eight hours and then taken out of the equipment.

This can be used only for some "Osaifu-Keitai" compatible services (Mobile d POINT CARD, iD, QUICPay, Gold Point Card, Big Point Feature Phone, and Rakuten Edy

*5

). (As of December, 2020)

The phone cannot be used as a remote control to operate the TV and other devices.

Recording is not supported.
In comparison with SH-01J.

Compatible with EVS-WB.

Only available in some areas. The data rate is the maximum value of the technical specification when sending and receiving and does not represent the actual data rate. Communications are provided on a best-effort basis and actual data rates may differ depending on the communications environment and network congestion.

Please see

Search Service Area

for details on the compatible service areas.

This is the size when folded.

You may need to update the software to use Rakuten Edy. Refer to

Product Update Information

(in Japanese only) to learn how to update the software.
Since March 17, 2022, the requirements for CE certification are no longer met following the EU Directive changes, and the product is no longer CE certified.

The price is open. For more information, please contact a docomo Shop or other retailer.

Please check availability with a docomo Shop or other retailer beforehand.

Product and screen images are for illustrative purposes only, and may slightly differ from the actual products.

AQUOS, AQUOS Keitai, Deka Receiver, Smooth talk, and Intelligent Charge are registered trademarks of Sharp Corporation.

Wi-Fi is either a trademark or registered trademark of Wi-Fi Alliance.