Wi-Fi STATION SH-05L
Data Communications Products

Large battery capacity and high-speed communications for your peace of mind.
On sale now
Features of Wi-Fi STATION SH-05L
High-speed communications*1 are provided in any situation.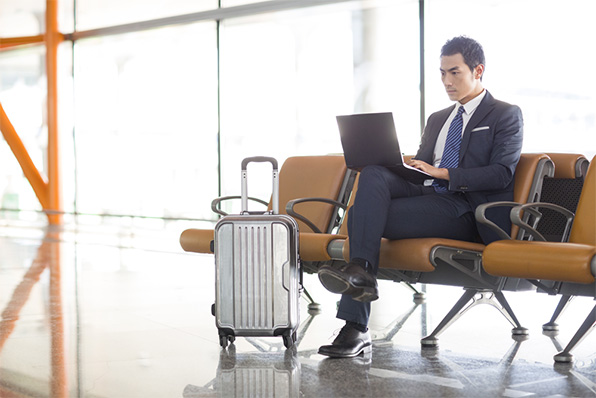 PREMIUM 4G is supported. Stress-free high-speed communications with a maximum receiving speed of 988 Mbps*1.
Ample and reliable battery functions.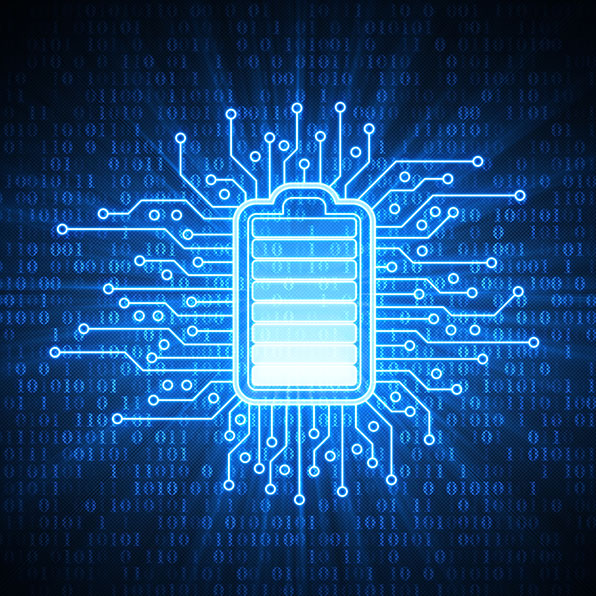 The device is equipped with a 4000 mAh high-capacity battery. It's reliable even when used for communications for long periods of time.
Wired connections are also supported.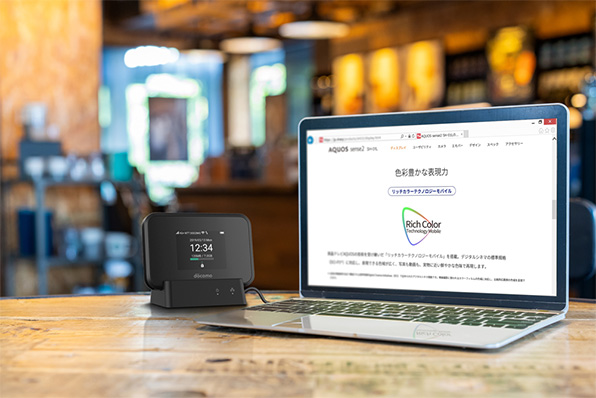 All it takes is plugging it into your computer with a USB cable. Without the need to install a driver, you can begin transmissions smoothly.
---
For more detailed features (in Japanese only)
Main Specifications
Main Specifications of Liquid Table
LTE Communication
Up to 988 Mbps when receiving data/Up to 75 Mbps when sending data*1


PREMIUM 4G

Size
Approx. 72 (H) x Approx. 108 (W) x Approx. 15 (D) mm
Weight
Approx. 150 g
Wireless LAN standards/Communication speed (standard value)*2
IEEE 802.11 (ac/867Mbps, n/300Mbps, g/54Mbps, b/11Mbps, a/54Mbps)
2.4 GHz band/5.2 GHz band are supported
Maximum number of simultaneous device connections
11 devices (Wi-Fi: 10 devices, USB: 1 device)
Easy connection functions
WPS, QR code connections*5
Battery capacity
4000 mAh
Included accessories
Cradle SH01
Continuous communication time (PREMIUM 4G/LTE/3G)*3
Approx. 5 hrs/Approx. 15 hrs/Approx. 17 hrs
LTE Continuous stand-by time (at rest [Auto])*3
Approx. 1200 hrs
WORLD WING
LTE/3G
USB Tethering
Supported
Auto Network Switch*4
LTE/FOMA
Only available in some areas. The data rate is the maximum value of the technical specification when sending and receiving and does not represent the actual data rate. Communications are provided on a best-effort basis and actual data rates may differ depending on the communications environment and network congestion. Please see

Service Area

for details on the compatible service areas.

The maximum transmission speed (standard value) of wireless LAN indicates a theoretical speed according to the standard, and does not indicate the actual data transmission speed. Moreover, the communication speed between Wi-Fi compatible devices and the Internet cannot exceed the actual communication speed of the line (Xi / FOMA) between the Internet and the device.

Continuous communication time and continuous stand-by time will vary depending on the usage environment and signal conditions. The continuous stand-by time is measured according to factory default settings without a device connected to the SH-05L via Wi-Fi.

Settings must be configured beforehand.

For Android

TM

devices, an app may be required to configure settings.

You can download recommended apps from the following site.

(

http://k-tai.sharp.co.jp/support/d/sh05l/peripherals/qrapl.html?utm_source=guide&utm_medium=qrsh05l&utm_campaign=product_leaf)
The price is open. For more information, please contact a docomo Shop or other retailer.

Please check availability with a docomo Shop or other retailer beforehand.

Product and screen images are for illustrative purposes only, and may slightly differ from the actual products.

The battery cannot be removed. The smartphone needs to be sent to the repair counter for battery replacement.

PREMIUM 4G and the logo are registered trademarks of NTT DOCOMO, INC.

QR code is a registered trademark of DENSO WAVE INCORPORATED.

Wi-Fi is either a trademark or registered trademark of Wi-Fi Alliance.